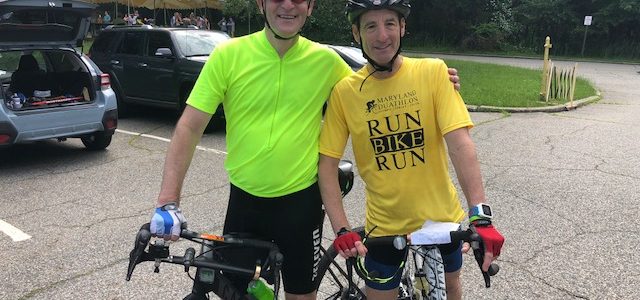 What's a good "cool down" after a hot AND humid summer 5K?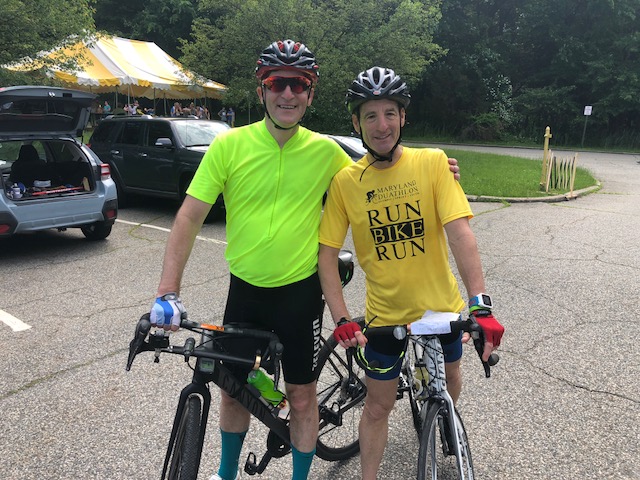 A bike ride with your brother of course! While visiting New York City and New Jersey for his daughter's wedding shower, another high school mentee's graduation AND a family wedding in Connecticut, attorney Doug Landau signed up for the Wayne, NJ Rotary 5K with his brother Ken. Expecting a horrible, rainy weather all weekend, the Landaus were pleasantly surprised to see nothing but sunny skies. When lawyer Landau left Virginia Thursday night, there was a deluge that flooded the first night of the annual downtown Herndon Festival. 
The Rotary race started with an uphill first half mile, which definitely got both of the brothers strict attention. After that, there was a quick little downhill, and then a lap around the small park and lake,  fragrant with early spring blossoms. The elder Landau had hoped for top 10 finish at under 7 minutes per mile pace, and an Age Group win. Instead, he finished 8th, in over 7 minutes per mile and was out of the money.  As a consolation, he was 3rd overall in the "Age Percentage" ratings for the race. The traveling trial attorney just chalked it up to a quality training session after Monday's hilly five miler in Norfolk, Connecticut. Ken's brother also finished strong, in the top third of the finishers. After getting bikes out of the car, they rode around the larger reservoir in Wayne and the home of the Toys "R" Us Corporation. In retrospect, lawyer Landau wondered if the water in the reservoir was warm enough to do a reverse practice triathlon!
Both Landaus thanked the race director and staff for a well run race. The event timing was provided by Tristate Timing. With plenty of police protection, smiling volunteers, a lovely venue around Packanack Lake and staging at the Immaculate Heart of Mary R. C. Church, this was an enjoyable event for the entire family.  Full Race results can be found by clicking here.