Picture Perfect Day for Rock Hall Racers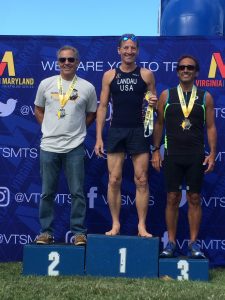 The Watermans Sprint Triathlon is one of the Virginia-Maryland Triathlon Super Series fastest and most popular races because of the flat, safe courses and the friendly people of Rock Hall. The Eastern Shore of Maryland (Kent County) has wonderful roads for biking and terrific restaurants and bars, often with live music. The VTSMTS folks note that Rock Hall is "only 18 miles from Baltimore "as the fish swims" (put your bike rack on a boat!) and 90 miles from Philadelphia, Rock Hall is one of the friendliest, most laid back towns anywhere."  Doug and Melissa Landau have enjoyed themselves every single time they have travelled to this little known venue.
For competitors, the wetsuit legal swim took place in Rock Hall Harbor on the Chesapeake Bay, protecting athletes from any serious wind or chop. The bike course consisted of wide, smooth pavement. Triathletes went through countryside, cornfields and past well kept farms. The one loop run course was also pancake flat and athletes ran through the quaint neighborhoods and side-roads of Rock Hall, Maryland. Though still nursing a nagging lower leg injury, Doug Landau wanted to end his VTSMTS season on a high note. With no recent run training, he knew that he would have to work hard on the swim and bike portions of the race, as he would be lacking "top end" running speed. Traveling to Maryland with Colburn Body Concepts coach Rob Colburn, Landau was able to dine with VTSMTS "movers & shakers" Greg Hawkins, Don White, David Stubbs, vivacious volunteer coordinator Janie Langford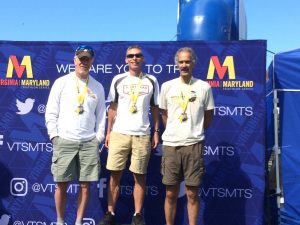 and others the night before the race. The Herndon injury lawyer even got to stay at the Black Duck Inn, located only about a football field from the race transition area! So there would be NO excuses for being late to the race start, though he usually uses a run to the starting line as part of his "warm up!"
Landau had a better than average, clean swim followed by a bike ride where he passed other competitors throughout, averaging 22.7 mph. There were some patches of road that had not yet seen a winter.  But on the run his left leg seized and he stopped several times. Nevertheless, he finished in the top 10%, won his age group and enjoyed the post-race seafood brunch at the Watermans Restaurant dockside with other top VTSMTS athletes, like Colburn, Todd Pederson, Half-Iron AND Sprint finishers Rob Barlow and the always amazing Gail Waldman. Upon returning to Herndon, Landau intends to: get dry needling at VeloFit from Dr. Kur Sohn (to get the spasms in his lower leg to relax and re-set), stop dry land run training and complete FTP testing at the Green Lizard Bike Shop.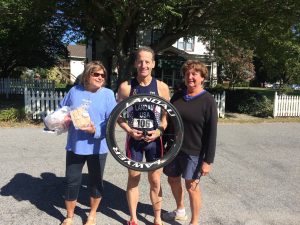 One of the charities that benefits from this event is the Special Operations Warrior Foundation. This non-profit provides full scholarship grants and educational and family counseling to the surviving children of special operations personnel who die in operational or training missions and immediate financial assistance to severely wounded special operations personnel and their families.  As Landau's son is currently attached to a division of Marines in the Pacific, and injuries and death do occur during their rigorous training regimens, this charity is especially near and dear to his heart.
The photograph on the left shows Doug with the friendly folks from the Black Duck Bed & Breakfast. The Black Duck makes every guest feel at home, and Landau and Colburn even reserved rooms for next season!  Some of Landau's Northern Virginia friends have even camped out in the Black Duck's backyard for races. Rock Hall is a terrific venue for cycling and enjoying local seafood. Consider staying at the Black Duck and visiting bucolic Kent County on the Maryland shore.