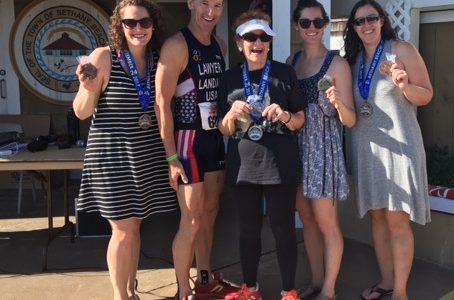 Winning Family Medal Haul at Bethany Beach First Responders Races in Delaware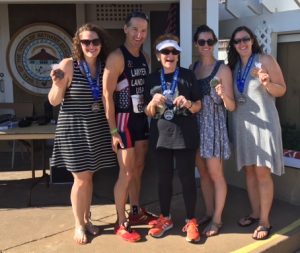 A family that races together sees new places together! Traveling to Delaware from Richmond,  Herndon, Virginia, New Jersey, New York City and Washington, D.C., members of the Landau family met up in Bethany Beach for a long weekend. With 5 of the women in his life surrounding him, Doug Landau had the joy of seeing his daughters, wife and even his mother participate in the First Responders Duathlon, 5km running race and walk.
While three generations of Landaus were able to catch up, relax and explore the Delaware shore, Doug Landau was hoping to do well in the "Run-Bike-Run" format race after finally getting in a fortnight of running after a hiatus due to leg injury. In fact, Lawyer Landau opted not to re-join Team USA in Rotterdam, in the Netherlands (Holland), for the ITU Sprint Triathlon World Championships the week before because he did not feel he was in top racing shape.  But in front of his girls and mother, Landau hoped that a few run training sessions would translate into a podium finish even though he was not in his best form.
What was the result of the half dozen family participants in their various events? Quite the medal haul for Melissa Landau and her posse at the Bethany Beach 5k Run and Duathlon. Melissa Landau threw in a torrid kick on the Delaware Boardwalk to the delight of the spectators to cop an age group prize. Doug Landau had to stop and walk a bit of the second run due to spasm in his soleus, but persevered to win his category. The quartet that ran the 5k were ALL prizewinners! Landau's youngest daughter was the women's runner up, and 5th overall! Her name can still be seen on the Leaderboard. Janine Whitman brought home hardware to NYC and middle daughter Danielle Landau was also an Age Group prizewinner. Grandma Margi would've won the 80+ category, but had to settle for runner up behind some 72-year-old youngster. Nevertheless, Landau's mother set the over 80 age group course record.