Breaking Up Mid-Week Trip to New Jersey by Racing in the Wilmington Delaware Cancer Research Run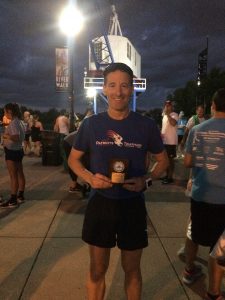 When Doug Landau realized he had to go straight from Court in Washington, D.C. to New Jersey to take his mother to services, he realized he would be in traffic and would need some exercise to keep his sanity! Explaining, "exercise is my Ritalin," Landau is known to find races nearly everywhere his multistate practice and travels take him. Leaving after winning a disability Hearing in our Nation's Capitol in the late afternoon, Landau went online and found another event on the way. Going to the Races2Run website, which has running events in Delaware, Pennsylvania and Maryland.
The 9th Annual Cindy Foundation Ovarian Cancer Research 5km Run was just off the Interstate and almost exactly half-way. Held minutes from I-95 at the Wilmington Riverfront, near the Delaware Hall of Fame, Landau barely made the start due to heavier than expected traffic. However, the race start was delayed, giving Lawyer Landau some time to get loosened up. Choosing to run in training flats in order to avoid further injury, Landau enjoyed the views along the USATF Certified course that winds along the fast and flat Riverfront. Managing to finish in the top 10% after 3 straight hours of driving after court, Landau copped an Age Group Award while averaging about 7 minutes/mile. Full results click here.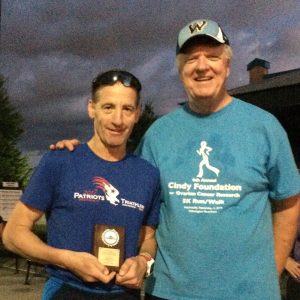 The race benefits the Cindy Foundation for Ovarian Cancer Research, and was well supported by the community, especially for a mid-week event. Landau then got back in his car after stretching, snacking and showering at a nearby gym (he was going to see his mother, after all!). Arriving pumped and refreshed, Landau was able to drive his mom to services, then a New Jersey Family Reunion and then to Bethany Beach to rendezvous with his wife, daughters and aunt.
Combining cases, races, places and faces (of family and friends) seems to be one of Landau's fortes. While finding races on weekends is relatively easy for Landau, scoring a mid-week event is a real coup. Do not be surprised if Landau visits with you after a race, before visiting far-flung friends and/or seeing sights of a new venue. The Herndon, Virginia injury and disability lawyer wins cases AND races throughout the East Coast of the United States while also visiting with clients, witnesses and experts on the road.