Landau tries to "DU IT" one more time before the end of the season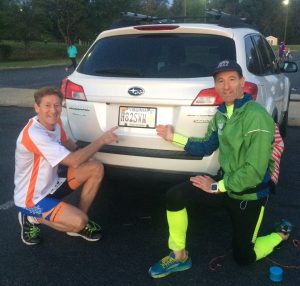 After no running for 3 weeks, and passing up the Hagerstown Duathlon that he had registered for months ago, Doug Landau thought he could squeeze in one more multi-sport race before winter. The Tri-It-Now "DU IT" Sprint Duathlon (run-bike-run) on the Manassas Freedom Center's ultra-fast course looked like a short enough event for lawyer Landau to avoid injury.
A 1.6 mile run around the Prince William County campus led to a 7.5 mile bike ride and then another 1.5 mile run, much of which was cross country. Open to ages 10 through adult, this race is a great place to try a multi-sport event this fall. Athletes were also invited to do the "Du Relay:" 2 or 3 person teams with each person completing 1 or 2 legs of the duathlon. There was also Spirit Run. This run was held alongside "Du It" on the campus and trails at the Freedom Aquatic & Fitness Center in Manassas. As there was no swimming in a DU, participants did not have to worry about the cold weather. All they had to do was just dress for the weather and run-bike-run!
This event by Ina Nenninger's wonderful Tri-It-Now group was a fundraiser for the Michael J Fox Foundation for Parkinson's Research. Tri It Now was collecting charitable contributions for the Foundation during registration for this event. With an Awards ceremony and snacks following the race, there were also lots of door prizes and goodies at this season ending event.
Landau felt good jogging in the warm-up with his friend, All American age group and world class Richmond Duathlete Marty Steigman. During the first run, in order to keep within sight of Steigman, Landau ran at speeds below 6 min./mile. Coming into the first transition in 5th, Landau worked hard on the 3-lap, 36 turn, 18-hairpin short course to get into 2nd coming into T-2. Steigman was well ahead of the field by the end of the bike, but as Yogi Berra said, "It ain't over 'til it's over!" While running well on the 2nd run, he was passed on the last uphill and within 300 yards of the finish line, had his left lower leg seize up again. Managing to "hop-run" in, Landau was 3rd overall and 2nd in the over-50 age group. He then went straight to the terrific Freedom Center Pool in order to try to loosen up his leg, and then to the amazing hot tub to further accelerate the healing process. Lawyer Landau has not registered for any other races the rest of 2017. Instead, he will return to VeloFit & Dr. Kur Sohn for physical therapy in order to fully heal and be in top condition for next year's national championships.