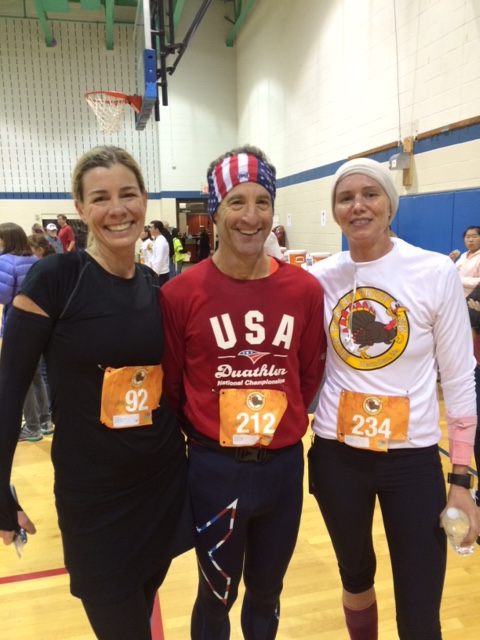 Herndon Community Turns Out for Annual Turkey Trot (& a Chance to Legally Run on Golf Course!)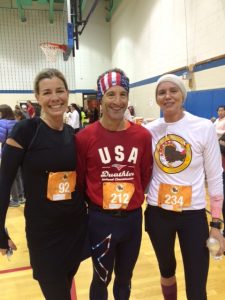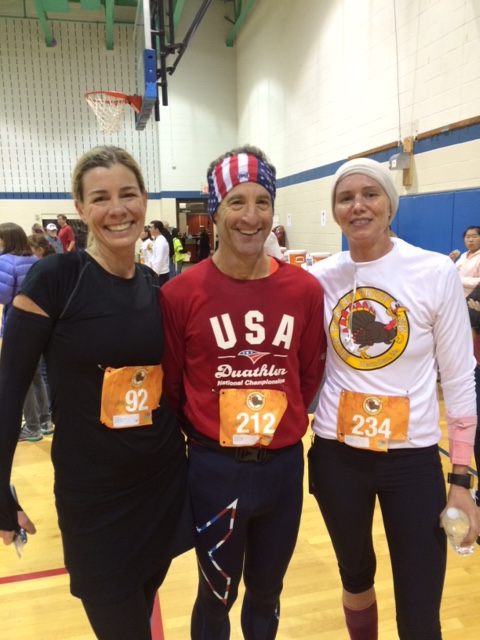 The Annual Herndon Turkey Trot is a fun family event where winners may come home with Thanksgiving holiday pies or birds! Starting at the Herndon Community Center, runners and walkers were able to warm up inside the gym before setting out to cover the 5K trail course, which winds around the Town of Herndon Centennial Golf Course. Instead of the the usual early morning start, and getting up a "O dark stupid," this event began at 4:00 p.m. in the afternoon. Refreshments (including hot stew  from Jimmys Old Town Tavern), entertainment, and services from local businesses were available.
As the race was only a few blocks from the ABRAMS LANDAU law shop, Doug Landau was able to roll down Center Street to the venue. Finishing 25th out of 753 finishers, lawyer Landau was able to get the runner-up spot out of 41 in the 50-59 division. Averaging under 7 minutes a mile, Doug waited for the kids at the front of the starting line to take off, and then when it was safe to go, he steadily passed other racers, especially on the grassy parts of the course. Bringing home a pumpkin pie after a swim, shower & massage (courtesy of the Dr. Camille D'Amato of the Quality Chiropractic Office), Doug was then able to attend a showing of the new movie "Loving," fed, clean & changed!
Participants were asked to bring canned and packaged food. Lawyer Landau noted that the collection boxes were overflowing by the start of the race. One of the charitable beneficiaries of the race was the "Reuse-A-Shoe Recycling Program with Nike"
The program collects used running shoes which are ground up into small pieces, and used to make tracks, playgrounds, floor tiles, new shoes and apparel. This is a great way to get rid of all those old sneakers laying around and to "go green" by recycling. Bring one pair or bring ten, shoes are being collected at the Herndon Community Center to the end of November 2016.
When recycling shoes, please remember:
• Only recycle athletic shoes can be recycled
(running shoes, sneakers, etc.)
• All brands of shoes are accepted
• No shoes containing metal
• No cleats or dress shoes
• No wet or damp shoes
• No sandals or flip-flops