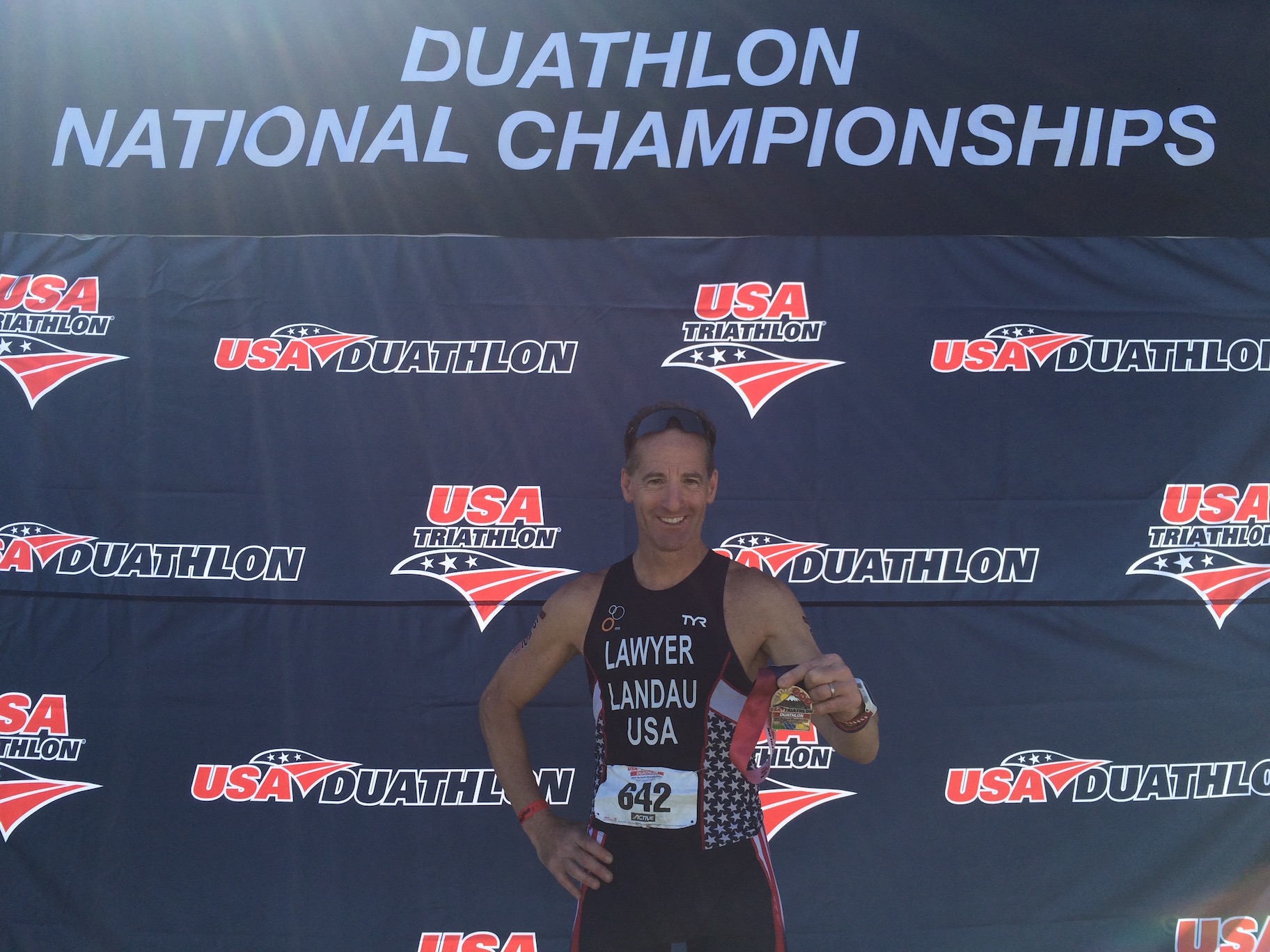 National Championships Results: In the End at Bend…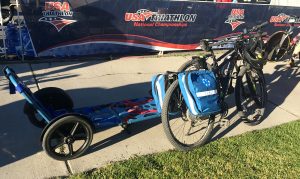 A sunny race day greeted duathletes with temperatures in the 30s, winds gusting so hard that several port-o-johns were knocked over and the Finish Line becoming airborne ! With the long descent on the middle, bike portion of the USAT Duathlon National Championships, the wind would be buffeting athletes all over the scenic road leading back to Summit High School in Bend, Oregon.
Luckily for Landau, who races poorly in cold temperatures, the sprint race was to be contested at 1:00, when the temperatures were in the mid-70's. He watched the morning Standard Distance race, where there were several falls, even on the run, and some DNFs. Getting taped up pre race by the folks at K-T Physio Tape, and making use of the Race Day Transport equipment, Landau was going to give full value with the level of fitness he had. Lining up for his race, he heard his name over the PA system as podium finisher last year, and, with his signature "Lawyer Landau" kit, was immediately recognizable by his competition, many of whom also wore World Championship TeamUSA uniforms.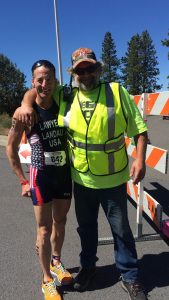 When the gun went off, Landau's heart rate shot up due to the altitude, and he tried to keep the top runners in his category within range without re-injuring his soleus or "blowing up." A fast transition put him on the bike pedaling at over 90 RPM in order not to make the mistake of trying to "grind" up the ascent. However, his Cervelo P3 racing bike is not equipped with "Granny Gears" for steep climbs, and so he had to monitor his cadence, effort, heart rate and hydration carefully, while ignoring the pedestrian pace he was holding up the hill.
After getting up to the turnaround point, Landau threw his chain into the big gear, went into the drops and held on for dear life. The winds pushed him all over the road, and with oncoming bikes to his left and motor vehicle traffic on his left, it was like running a terrifying gauntlet ! Landau pedaled a bit to keep his speed, heart rate and body temperature from falling too precipitously, and went through the second transition almost as fast as the biker he had just passed who was utilizing "pyro platforms." The pyro platforms allow duathletes to wear their running shoes of the entire race, as they provide a hard surface to push off on when cycling, that are secured with straps. That athlete had the fastest combined transitions of the day. Landau was out of his bike shoes before the "Dismount Line" and into his running shoes in less than a minute. He passed the athlete ahead, and was running well for the first half mile, but then his hamstring seized up at the top the first incline, and he could not bend the leg. Stopping to try to counter stretch, and even trying to run backwards did not help. Other runners were now passing Landau, who struggled to try to keep moving forward. Eventually he was able to jog a bit, and leaning into he down hill to the water station, he re-passed several duathletes. However, the leg kept locking up and he was not able to get near racing speed. After crossing the finish line (sans Finish banner because of the winds), Landau went to the ice bath, not because he was overheated, but because it helps reduce post-exercise soreness.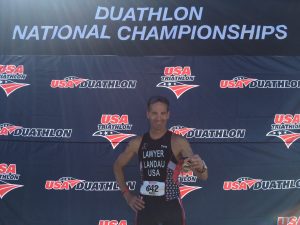 Finishing in just under 74 minutes, some 5 minute slower than he had anticipated, Landau then went to the computerized results board that could instantly reveal placings at each stage of the race via the computer chip affixed to every athlete's ankle. The instant finisher's receipt showed that he had finished 10th in his category; not good enough for an automatic World Championship spot. Several of the athletes ahead of him in the listings were within a minute of Landau's finishing time.
However, athletes were told results were not official until penalties were assessed for unsafe conduct (i.e., passing on the right, drafting, dangerous equipment, failing to wear helmet properly, etc.). Landau then re-hydrated, turned in his bike to the great team at Race Day Transport for shipping back to Virginia in his hard plastic bicycle case, and headed back to the hotel to clean up before the official awards and TeamUSA selection ceremony. Just as was the case after the New England Regional Championships, where his hamstring seized up after the bike portion of the race, Landau was not sore or in pain after the race. However, he was disappointed with his performance and finishing place.
`
While Landau went to celebrate friends podium finishes, he was told to check the Worlds final listings. When he did, his name was 8th, as other athletes had aged up and others had aged out of the men's 55-59 category. Landau quickly went to the USA Triathlon staff to register his intent to compete for his country at the sprint duathlon World Championships again next year. So, while no podium or additional medals this year, it was "mission accomplished" for lawyer Landau. He will return to the law Shop in Virginia this week before going to Connecticut for a much anticipated July 4th Independence day (& birthdays) celebration with his extended family.