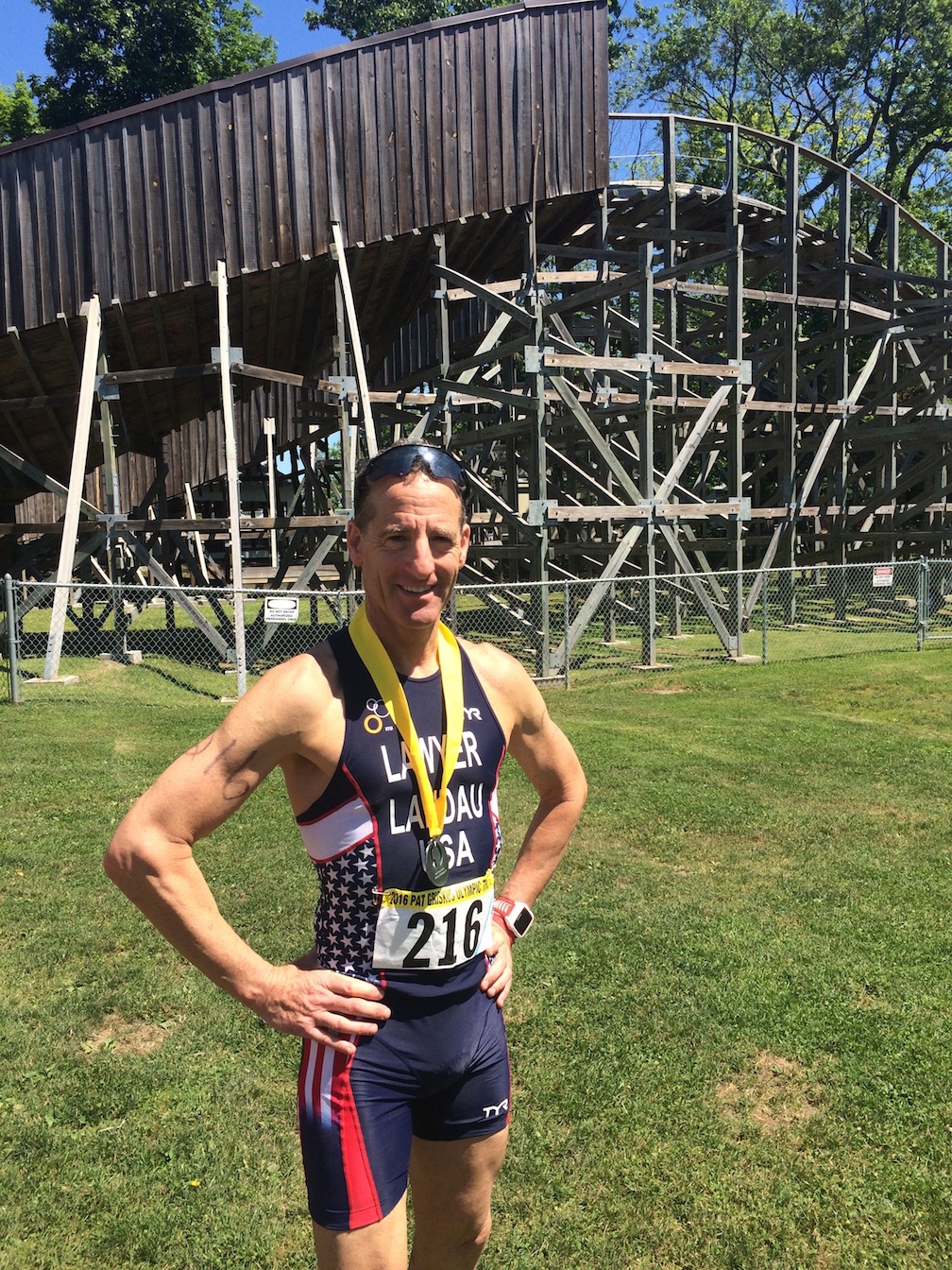 Pat Griskus Races Add Duathlon: New England Regional Championships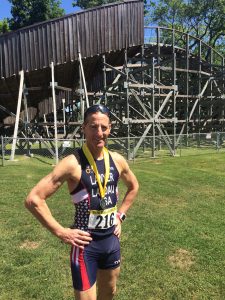 Doug Landau was scheduled to spend Fathers Day in Connecticut after trying three difficult Social Security cases in Washington D.C. in the week prior. Having signed up for the Sharon Mudge Pond Triathlon, he was looking forward to seeing friends, family and "training through" the event on the nearby sprint distance course. However, the race was cancelled and Lawyer Landau went looking for another event to test his healing soleus. The Pat Griskus triathlons in Middlebury, CT were the same date. Landau had done the very challenging and hilly Olympic distance race, usually coinciding with his reunions at the Hotchkiss School, and he had competed in the evening mid-week sprint race July 4th week as well. When he saw that a Duathlon was added for this year, and that it would serve as the New England Regional Championships, he knew he had to give it a shot. However, the distances were daunting. The race started with a 2-mile run, then went into a 40 km. hilly, technical bike ride on an unfamiliar course, ending with a 2-loop steeply hilled 10 km. run. Would Landau's recovering leg be able to manage over 8 miles of hilly running ?
Further complicating Landau's last minute preparation for this race was the fact that his racing bike, helmet, shoes, etc. were already shipped to Bend Oregon for the USAT Duathlon National Championships in Oregon at the end of the month. Because he was taking the Amtrak train North to visit his sister, nieces & nephews, Landau arranged to borrow his brother's road bike and bring his own pedals and clip on aero bars. However, trying to reach the aero bottle straw on his borther's 6'2″ sized frame was difficult. Nevertheless, Lawyer Landau kept a ceiling on his efforts in the opening run and bike portions of the race. Then, going out at 7:30/mile pace, his hamstring started cramping such that he stopped 7 times on this hard "ally- oop" run course. Nevertheless, his car work on the bike resulted in a 2nd place finish in the age group and the 8th overall spot. Now let's see if his aerobic fitness can carry over to a speedy performance at the USAT National Championships in Bend, Oregon on June 26th.
While his swim was abysmal, and his overall time was 11 minutes slower than his 3rd place Age Group finish in 2014, Landau kept his effort below the "red line." Lawyer Landau ran with his leg taped up, flat-footed and finished with a kick that garnered the last spot on the podium. Greg Hawkins, Janie Langford and the rest of the VTS crew did an outstanding job on a very hot day (wet suits were not legal). There was food, beer, games and music after the race, and a festive atmosphere made for all age family fun. For full results, click here. A podium spot for Landau at the USAT Mid-Atlantic Olympic Distance Triathlon Regional Championships was not expected, but bodes well for the National Sprint Duathlon Championships the end of the month.