National Championships: Frigid Waters & Hot Competition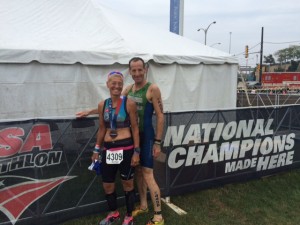 The US Triathlon National Championships were hotly contested, despite water temperatures in the sixties!  For the third year in a row, over 5,000 competitors raced in Milwaukee Wisconsin. It is the largest, most competitive triathlon competition in North America. While Doug Landau would have enjoyed the 90 degree temperatures that greeted the country's best multisports athletes in 2014, he made the best of the adverse conditions (cool temperatures, overcast skies, rough road conditions, especially over the Hoan Bridge, and no heart rate monitor to make him go faster).
How did he fare, not having raced this course in the prior 2 years ? The Herndon lawyer managed to finish in the top 20 in his category, thanks to a strong bike ride, fast transition times, and a run that enabled him to pass several competitors in his age group. The race gave Landau additional confidence going into the World Championships in October. Not sore or tired afterwards, or in the days that followed upon his return to the Law Shop in Herndon, Landau looks forward to competing this coming weekend's USAT Mid- Atlantic Regional Championships in Luray, Virginia. His prediction: faster times than in Milwaukee's freezing froth !