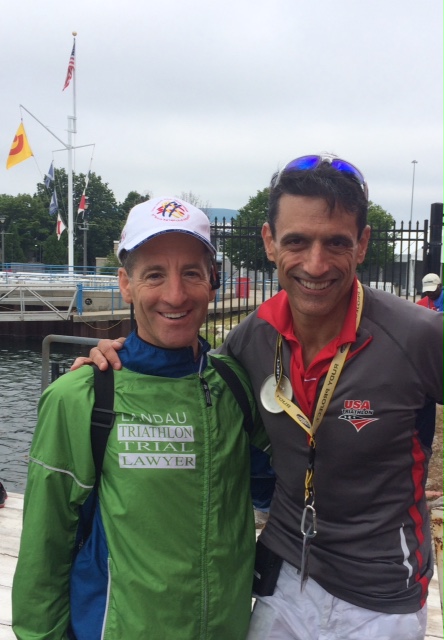 What do the best triathletes in the country do the day BEFORE the big race?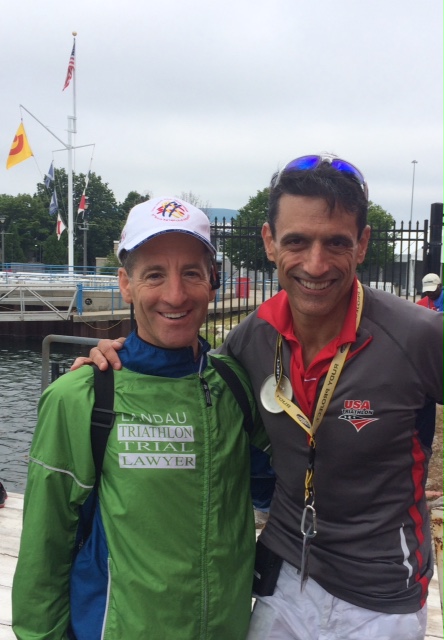 The best triathletes in the United States "take care of business" the day before a National Championship. Doug Landau was no different. Once he arrived in Milwaukee, he checked out the run course on foot, as well as on his bicycle. The Herndon bike injury lawyer also took advantage of the practice swim two days before the US Sprint National Championship and rode over the first third of the bike course. However, due to the venue crossing the heavily trafficked bridge, competitors were not allowed to ride their bicycles on the actual Hoan Bridge itself. "It is a big advantage to be familiar with the race course. Actually experiencing the road surfaces, water temperature, and other conditions, all help to prepare you for race day," lawyer Landau added.
Landau was invited to watch the Olympic distance and Elite Super Sprint races from the USAT VIP tent. Landau was notified that, "because of his outstanding performance throughout his race season and qualifying for the Age Group National Championship 10+ times," he had earned his spot with the best triathletes in the country.  Lawyer Landau was able to discuss triathlon history with such luminaries as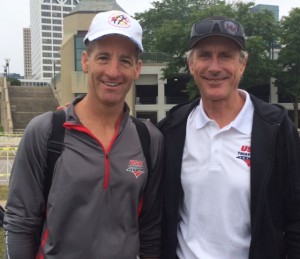 Mark Allen, Donna Smyers, and USAT CEO Rob Urbach.  Earlier in the morning Urbach had been helping other volunteers whole swimmers up the ramp and out of the freezing cold water. Truly a "shirtsleeves" chief executive if ever there was one. Urbach not only "walks the walk," helping out where needed on race day, but he also participates in a number of USAT events. Urbach may even be lining up tomorrow for the Sprint Triathlon National Championships. In the past, when they competed on the VTS circuit & at national championships, Urbach would get the better of his former Maccabi teammate Doug Landau. Noted the triathlon trial lawyer, "fortunately we are now in different age groups!"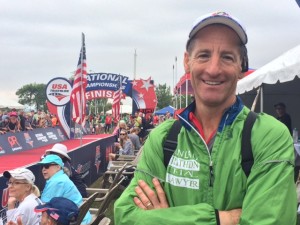 Athletes are covered with over a dozen (!) numbers and they also wear a computer chip on their ankle. The chip allows results to be printed immediately upon crossing the finish line, with data covering the swim, bike, and run splits as well as transitions, pace, overall, gender and age group placement ! In addition to studying the courses for the swim, bike, and run, Landau also toured the transition areas, rested, stretched, and tried to follow a healthy nutrition plan in order to give his best possible performance at Sunday's National Championship. For live feed and other Sprint race news, click here & stay tuned !