Lawyer Landau Best of Field in Fredericksburg Wounded Warrior Benefit Triathlon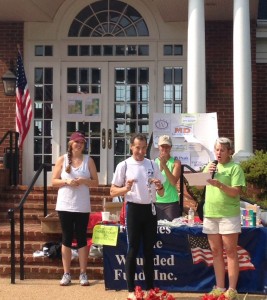 The big news of the 4th annual Fawn Lake Sprint Triathlon is that the event donated 100% of the race entry fees to the Wounded Warrior Project ("WWP") thanks to the race sponsors' generosity.
The Sprint Race was open to all ages. Beginning with a 700 meter swim in Fawn Lake, followed by a 12.32 mile bike ride through the Fawn Lake subdivision, and finishing with a 5k run besides the Spotsylvania community's sylvan golf course.
Having finished 3rd in his inaugural try at this race, and then 4th last year, Doug Landau was hoping to improve upon his past performances. After all, the saying goes, "the third is the charm !"   Though well back in the pack after the swim, lawyer Landau had the fastest bike split (22 mph), the quickest combined transitions and the 2nd fastest run (at sub-7 minute mile pace).  As is often the case, once on dry dry land, Landau set about passing everyone he could see.  Finishing in 69 minutes, Landau was 2 minutes ahead of the next racer, who was a third the Herndon injury lawyer's age.
In addition to numerous age group, masters and overall prizes, this is the ABRAMS LANDAU trial lawyer's second overall triathlon title, having now won in Fauquier County and Spotsylvania County in 2014.  For those clients who want to see the best multistate triathlon trial lawyer "close to home," check the newsletter schedule, as Landau will be competing in at least 6 more multisport sprint competitions this season, including  the Marine Corps race at Quantico, Bethany Beach Delaware, Virginia and Maryland Triathlon Series events,
The Wounded Warrior Project (WWP) serves veterans and service members injured or disabled as the result of their military service on or after September 11, 2001 and their families. The mission of WWP is to foster the most successful, well-adjusted generation of wounded service members in our nation's history. The goals are:
To raise awareness and enlist the public's aid for the needs of injured service members.
To help injured service members aid and assist each other.
To provide unique, direct programs and services to meet the needs of injured service members.