Podium in Maryland Triathlon Series Smallwood Sprint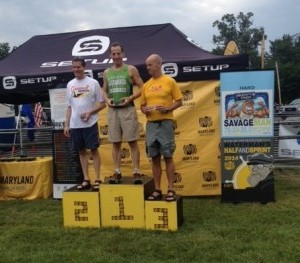 Winning his age group by almost a mile today, Herndon injury lawyer (& SetUp Events sponsor) Doug Landau managed to podium at this morning's race in Marbury Maryland. In order to complete the required 5 races for the Virginia Triathlon Series championship competition, Doug Landau will be competing in several Maryland Triathlon Series races.  The points from Maryland and Virginia races can be used for this super series' scoring. Landau, a past VTS Age Group winner, has the Smallwood, Savageman and Watermans sprint races on his Maryland race calendar, along with the VTS Jamestown, Colonial Beach, Williamsburg and Acorn (Lake Anna) events on his 2014 calendar.
Located just outside Washington, D.C., this race takes place South of National Harbor off Indian Head Highway. Named in honor of Maryland's fourth governor and the highest ranking Marylander to serve in the Revolutionary War, General Smallwood State Park is ideally situated for a triathlon. The swim takes place in the Mattawoman Bay, known across the Nation as a top spot for bass fishing. While lawyer Landau did not see any of these prized sport fish, he did see several racers doing the breaststroke, including strong multisport athlete Todd Pederson of North Carolina, who has already raced in 9 Set Up Events this season ! Back in the pack, as the water temperature was too warm for wetsuits, there was going to be a lot of catching up to do on terra firma.
Looking at past results, Landau noticed unusually long first transition times. Just as with the Jamestown Virginia race, there was a several hundred yards run from the finish of the swim to the bikes. Managing to average 22 mph for the 16 miles of rolling hills, Landau was often by himself, which resulted in one missed turn that was quickly remedied. Once out of the water, Landau was not passed until almost through the run course, by a 16 year old cross country runner. With about 2 km to go, Landau spied his friend and top Virginia multisport athlete Tom Stroup. Thinking he could catch big Tom, recently returned from the USAT National Triathlon Championships, Landau tried to bring his heart rate up from the 150s to his usual 160-170s, but he was not able to do so and missed by 10 seconds, 1:27:27 to 1:27:17 ! The Herndon Virginia injury lawyer noted,
My poor transitions today cost me; plus I just could not get up to top racing speed. However, I truly enjoyed the race and look forward to my next MTS forays. There were may friends here, and the camaraderie, friendliness of the volunteers, the excellent pre-race packet pick up meeting by Greg Hawkins and the good road surface conditions all made for a quality event. This is a race that all DC area triathletes should have on their radar for 2015 !