2014 Frozen 5k starts the New Year Off With Almost Impossible to Achieve, Efficient, Even Splits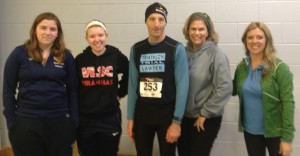 Despite the recent cold, wet weather, over 400 runners toed the line for the Frozen 5km at the Prince William campus of George Mason University. One of the advantages of this event is the opportunity to warm up, cool down, swim and even shower at the Freedom Fitness & Aquatic Center at the GMU athletic complex. Presented by Advantage Physical Therapy & Rehabilitation, the excellent online Manassas course maps enabled runners to "preview" the route.
There were accurate mile markers, which is how I knew I was more evenly paced than any race I have ever run in my life ! While the course was wet, and icy in some patches, it was drizzling, I somehow managed a 6:33 opening mile. Then, to my surprise, the 2 mile split was 13:06. With the finish line and the Freedom Center in sight, I hit the 3rd mile at 19:38. In other words, my average pace was right on 6:33/mile for the entire race. Distance running coaches will tell you that running even splits is far more efficient than constantly speeding up and then slowing down. It is akin to driving on "cruise control."
The race director for the Frozen 5km was Kent Barker, who did another superb job with the BRATS crew. Advantage Physical Therapy and Rehabilitation provided massages inside Freedom Center pre and post-race. There was a "Lost and Found," which many races lack, and even weather updates. The charitable beneficiary was the Owen Lea Foundation which is a non-profit organization founded in Virginia by the parents, friends and family of Owen Scott Lea and which reaches out to any and all families who have a child living with Neuroblastoma. Bottom line, great course maps, volunteers, venue, race direction, sponsors and charitable cause all make for a perennial favorite.