"Du or Not DU, There is No Tri"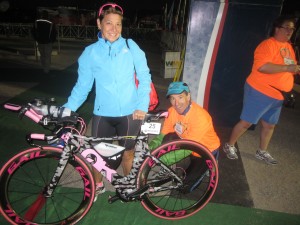 Paraphrasing Yoda's Famous line to Luke Skywalker, the decision not to compete in the National DUathlon Championships after months of training, dieting and focus, "required Jedi-like thinking and an optimistic outlook," according to Triathlon Trial Lawyer Doug Landau. His racing bike already shipped to TriSports in Tucson and his travel plans set some time ago, he and his wife opted to fly to Arizona as scheduled. Cleared for air travel by his doctors after a CT scan confirmed no brain bleed, skull fracture, or other problems from Monday night's head injury, Landau took care to take naps every day, "rest" his brain, and not exercise !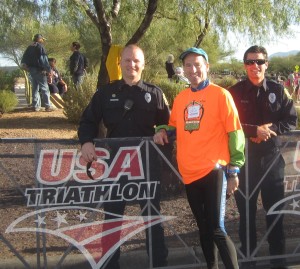 However, the Herndon injury lawyer is hardly one to sit on the sidelines. Remembering his own grandmother Landau's admonition that "there's good in every situation; you just have to look at it the right way," Doug looked for a way to make the trip into a positive experience. After officially turning in his competitor's numbers at the Race Expo, Landau signed up to be a volunteer, with the following "work restrictions:" no heavy lifting, no running, and no isolated aid stations (in case his post concussion symptoms returned).
Reporting at 5:05 AM race day morning to the Ventana Medical Center in Oro Valley, Arizona, the Virginia Triathlon Series and Herndon Kids Triathlon sponsor was immediately identified as an "experienced" athlete, race director, and volunteer and assigned the job of numbering the DUathletes' calves. While National Championship races like this have special decal numbers and computer chip timing, putting the competitors' ages on the back of their legs helps their fellow athletes identify them for purposes of age group competition. Top age group finishers at the USAT DUathlon National Championships can: win valuable prizes, become "All Americans," and qualify for the World Championships in Spain next summer. So, Landau notes, "it is important to know who your age group competition is within the larger race !"  [Read more in tomorrow's post !]