"DU or Not DU, There is No Tri", Part 2
whose decal race numbers did not stick or came off, so it was a busy time in the transition area.
After those tasks were completed and the transition area was closed, Landau was assigned to marshal the hairpin turn that every athlete had to traverse in front of the transition area and starting line. Because he is an experienced bike safety advocate, the USAT staffers identified Landau as the volunteer best suited for this job. In addition to keeping spectators and successive waves of athletes out of the path of speeding cyclists, Landau had to keep recreational bikers off the course, warn DUathletes of the need to slow down and go wide, and also announce that others racers were just entering behind them from their right ! It was a busy, sometimes confusing, part of the National Championship course. And, while there were a few athletes who got confused, Landau saw no cyclists with injuries, no bike crashes, and no "near misses."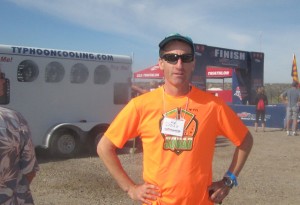 Six hours after "reporting for duty," Landau was instructed that no more athletes would be arriving, and he was told to get some food from generous volunteer sponsor, the bakery and sandwich shop "Beyond Bread." Following the instructions from the Fairfax Concussion Clinic, he also rested in the Volunteers Tent and rehydrated before having a friend walk him to his car. From the Ventana race venue, Landau took another obligatory nap before taking a walk with his wife, who had rented a bicycle and toured much of the City of Tucson while her usually hyperactive husband rested. The Fair Wheel Bike Shop on 6th Street by the University supplied Mrs. Landau with a terrific bicycle that enabled her to pedal around downtown as well as the beautiful surrounding hills.
So what is the takeaway from this experience? Landau relates:
"If you cannot compete because of an injury, and you are still able to help out, consider being a race volunteer. The t-shirt and food pale in comparison to the thanks you get from athletes and their families. Plus, it is important to give back to the sports in which you participate. Without race and registration volunteers, many races could not take place. As athletes, we have the experience to be effective race safety advocates and to help less experienced volunteers make for a fun, safe and enjoyable race experience for all participants. Plus, how many times in your life will you have hundreds of women pull down their pants or hike up their clothes to willingly show you their shapely legs without your getting in trouble with the missus ?!!?"