Lorton DUathlon Challenges Athletes on Pohick Park Trails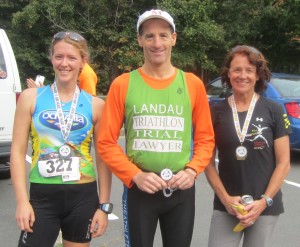 For the second time this season, Doug Landau raced to support the Leukemia & Lymphoma Society ("LLS") in a challenging Duathlon presented by Bishops Events in Virginia's bucolic Prince William County.  Part of the Bishops Events Series, this Run-Bike-Run event to support LLS featured a challenging 5km cross country course at Pohick Bay Regional Park that racers had to traverse twice, with a curvy, hilly bike ride on jogging trails that went to Gunston Hall and Mason Neck State Park.
Before the race even started, Lawyer Landau had not one, but TWO flat tires.  However, rather than being out of the race before it started, Landau had brought two sets of wheels (as well as an extra helmet, shoes and other gear).  "Just like an injury trial, Social Security Disability or Workers Compensation Hearing, I always try to anticipate problems and come over-prepared, rather than under-prepared !"  noted the Herndon Virginia acident lawyer.
After overcoming his mechanical issues and starting the race on time, the Herndon injury attorney kept to his plan of using this event as a hard training day in preparation for the US National Championships in 5 weeks.  While Lawyer Landau managed to work hard to come out of the woods in second place after the first run, he was passed by several strong cyclists.  Committing himself to a hard run, Landau managed to finish up in 3rd place overall, (official results) with a negative split on the 2nd run !  This was only the second time this year he has run a 10km. in competition.  His run time was good enough to be listed as third all time for this course, and he is currently the first place male in the multisport series standings!
Credit for a fun event goes to the folks at Bishops Events, the DCRRC timers and all the volunteers.  In addition, fellow competitors were very helpful before and after the race, especially runner up female Eve Baker of Baker Editing Services, who, in addition to "Saving wayward apostrophes since 2004," also serves in our nation's armed forces.