Herndon Kids Triathlon a Hit !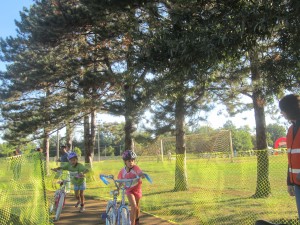 A triathlon transition area with: streamers, training wheels, balloons on bike seats and fenders is an unusual sight in the multisport world. But in children's triathlons, these sights and the smiles of the participants are what make it fun for volunteers, spectators and pint-sized racers. This morning's Herndon Kids Triathlon had perfect weather, lots of local volunteers, cheering parents and grandparents.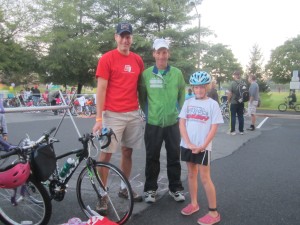 Hosted by the Herndon Community Center on Ferndale Avenue, and open to children from 6-16, this event was an excellent introduction to multisport racing.  The distances of the indoor pool swim, W&OD Trail bike ride and run were set in relation to each child's age.  This kids triathlon gives youngsters a great opportunity to compete in one of the fastest growing sports in the United States.  The philosophy is completion rather than competition.  Every participant received a t-shirt, swim cap, water bottle and medal. The ABRAMS LANDAU Herndon injury law firm, along with A-1 Cycling and Keller Williams Realty, was a sponsor of the event, and all 3 sponsors contributed volunteers on the race course.  For the second week in a row, Brian Crow, and his professional timing team from TriPerformance, did an excellent job of tracking the times of over 200 children of all different ages, skill and experience levels.  For official TriPerformance race results, click here.