Reston Triathlon 30th Anniversary a hit with Northern Virginia Triathletes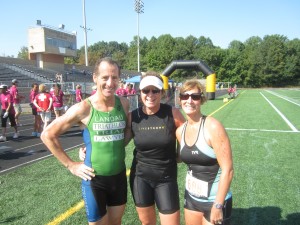 Today's 30th edition of the always sold-out Reston Triathlon was won by my friend, XTerra & road multi-sport champ (and and now a FeXY Team Triathlon Coach) Eric Sorensen in just a minute over 2 hours. The National Anthem was played on the violin by my friend and client Pavel Pekarsky of the National Symphony Orchestra clad in his wetsuit! Drs. Dennis Sager (Internist & FAA physician) and Tom Fleeter (Town Center Orthopedics), also gave generously of their time and skills in the happily little-used post-race medical tent.  Once again there were lots of familiar faces of friends, clients and training partners.
The weather was superb, the volunteers were plentiful and everyone was still buzzing about all the great shwag.  Other than the rough road on Reston Parkway (over which the Reston Triathlon Association had no control), the course was clean, dry and a showcase for Reston Virginia.  Publishing his goal of an hour for the bike leg and BOTH transitions, Herndon lawyer Doug Landau clocked 1:00:10, with his 2 transitions seconds faster than the overall winner.  With a pedestrian swim and run, lawyer Landau finished 30th overall, while #608 Melissa Landau, had one of her best Reston races, putting on a sprint at the South Lakes High School track.  The Landaus saw many friends volunteering, on the course and cheering along the course.  The race committee worked very hard to provide participants with a top flight event, and the volunteers were omnipresent.