Safe Bicycle Helmets for Reston Triathlon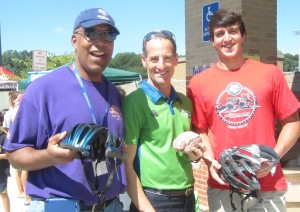 Bicycle safety was the order of the day with recent road re-surfacing and a spate of Fairfax County bike accidents.  Once again volunteering for the Reston Triathlon bicycle helmet inspection was Herndon lawyer Doug Landau.  Assisting was triathlon wunderkind turned Stanford ('16) Crew Member Andrew Gyanis.  With over 500 athletes needing the pass inspection, the helmet safety volunteers worked hard to keep the line moving.  Keeping everyone in good spirits was the wonderful shwag for the 30th Reston Triathlon, predicted good weather and a wetsuit legal event.
There was one outright safety failure, but the triathlete who had been rejected came back with a new helmet that passed inspection easily. Landau and Gyanis were looking for: cracks, signs of crashes, deterioration and age.  These findings cause a helmet to afford less protection from head and traumatic brain injury.  Landau also brought education coloring books for children who accompanied their folks to registration, as well as model brains and actual helmets from cases. Landau hopes to break an hour from the swim finish to the run start, but has no illusions of being fast in the water or running at full throttle.  In fact, the Herndon bike crash injury lawyer's goal is to turn in a top bike split but do the run in his trainers, as he was injured after the 10 km last year and did not run for 5 months.  Hopefully this year's 30th anniversary Reston Triathlon race will be safe, fun and injury free !