Delayed Gratification Worth It at Quantico Awards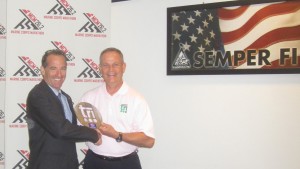 Sweaty, smelly and sometimes cold, award ceremonies are often a long time after the race is over.  However, the Marine Corps Marathon ("MCM") folks put a new twist on this part of the multisport experience.  On the day of this inaugural triathlon, the cold rain was unrelenting and some racers started after others had long finished.  So the race directors had the awards ceremony at a later date at the MCM headquarters on the Quantico Marine Base.  Prize winners could return to the base showered, clean and with family and friends.
The overall winner was in fact a Marine Officer who was presented with a replica of the Iwo Jima Memorial.  Other overall winners were presented with sculptures and age groupers were given hand-made steel awards.  Herndon injury lawyer Doug Landau was thrilled to be among the age group winners, finishing in the top 5 among over 325 athletes and posting the best bike split of the entire field.  There was a slide show of race photos, including the underwater pictures taken by a Marine photographer.  The MCM folks aim to put on other events, and if the race in Quantico is any indication, they will be logistically well done and popular with civilian and military athletes from all over the United States.