Cyclist Warning Generated by NYC Parking Meters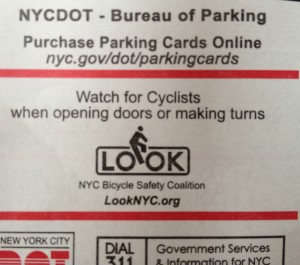 While visiting New York City last week, Virginia Doug Landau paid for parking at a street parking machine.  To his surprise, the receipt that must be displayed in the front driver's window to avoid a parking ticket had safety information that is intended to prevent needless injury to cyclists.  The receipt, shown to the right, educates and reminds motorists to look out for bicycle riders when opening doors and making turns.  The parking receipt also gives the LookNYC.org web site which has helpful information, including
Safety Tips
    Ride in a straight line, obey traffic signs and signals, and do not weave in and out of traffic. Riding predictably reduces your chances of a crash with a motor vehicle.
Look, signal and look again before changing lanes or making a turn. Establish eye contact with drivers. Seeing a driver is often not enough. Make sure drivers see you before executing a turn or riding in front of a turning car.
Watch out for car doors. Be prepared for the possibility that a car door may be opened in your path. When possible, leave room between yourself and parked cars (3 feet is generally recommended) so that you can avoid a door that opens unexpectedly.
Stay visible. Wear brightly colored clothing for daytime riding. At night, use reflective materials and lights.
Use Your bell. Your bell alerts drivers, pedestrians and other cyclists to your presence, it is required by law.
Don't wear earphones. By law you may wear one earbud, but keeping your ears clear is a much safer choice.
Wear a helmet. Helmets are required by law for children age 13 or younger and working cyclists, helmets are a good idea for cyclists of all ages.