Generating Watts to Power Your Spin Class – GO GREEN FITNESS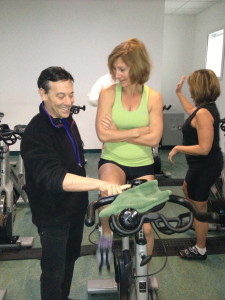 Like Gilligan on the island, traveling trial lawyer Doug Landau took a spin class where he and the other participants generated the electricity to power the class.  While helping injured New Haven Connecticut clients, Landau was able to take in a class at GO GREEN FITNESS at the recommendation of Orange attorney (and Boston University classmate) Paul Kaplan.  According to the Go Green Fitness website, these Spinning classes are held "in the greenest, cleanest, high tech Spinning studio on the East Coast! Experience for yourself the ultimate exercise environment today. First class is free; no strings attached."
Pedal power that creates electricity is creating quite a buzz at GO GREEN FITNESS!  Using new patent-pending technology developed by a Connecticut company called The Green Revolution;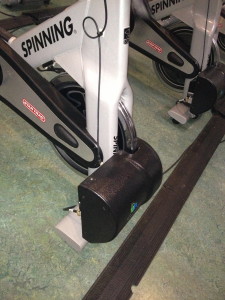 it is the first program of its kind to convert people energy from cycling workouts into clean, renewable energy.
How the Technology Works:
The entire group cycling studio's indoor cycles are connected to the GO GREEN FITNESS electrical grid, so that fitness energy can be used to power all aspects of the facility. A performance monitor is fitted to each bike's handlebar allowing the rider to control resistance level during a workout.
This innovative technology harnesses electricity from your workout and helps to reduce carbon emissions and lowers the community's demand for fossil fuel-based energy. Any excess electricity generated from GO GREEN FITNESS has the potential to return to the power grid for others in the community to use. Each participant will be able to control their individual renewable energy output. GO GREEN FITNESS will be able to track the total energy that is produced through exercise on the GO GREEN FITNESS web site.
The studio lawyer Landau visited is conveniently located at: 500 Boston Post Road, Orange, CT (203-795-5733)