Warrenton Sprint Triathlon – new race on the Virginia Triathlon Series
Speeding on the rolling roads of Fauquier County, specifically Routes 29 and 211 will usually get you an "invitation" to the Court in Madison, Virginia. However, over 200 multisport athletes did just that – riding their bikes up and down the hilly roads around Warrenton.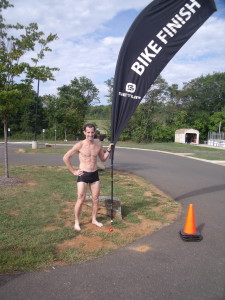 Triathlon Trial Lawyer Doug Landau entered the VTS Warrenton race as a final "tune up" before next week's USAT National Sprint Championships. After getting passed by several competitors in the pool, ABRAMS LANDAU's Landau managed to catch many cyclists on the hilly bike course. Once on the run, he again passed runners on the hilly, "mobius strip" course. The initial results had Landau finishing in the top 5% and second in his age group. The Reston Herndon area injury lawyer won the runner up Masters Award. It was Landau's first race with his Nimble racing wheels and he hopes to "taper" and reduce the volume and intensity of his training in order to be "jumping out of his Speedo" at the National Championship and World Championship qualifier.