After Crash, biker comes back to race
After a mountain bike crash, the pain, bruising and "road rash" may take several days to peak. Taking some time off and using ice, heat, massage and gentle stretching are all good ideas. However, there are some tough multisport athletes who do not let a bicycle accident slow them down.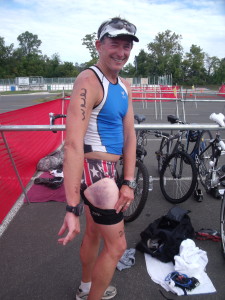 John Brannock, a former training partner and team mate, came in this weekend on a business trip. As is Doug Landau's habit, the Herndon trial lawyer convinced his friend to join him for the first annual Warrenton Sprint Triathlon on Sunday. Landau borrowed a bike, brought extra helmets and other safety gear, and loaded the mini van so that they could car pool to the pool. The 300 yard indoor pool swim, 11.8 mile hilly bike ride and the 5 km. up and down run course would take less than 2 hours. However, Brannock had been in a mountain bike accident on Friday, and his bruises were just coming into their full black and blue color ! The new Warrenton Aquatics Center ("WAC") was a clean, state of the art facility for this new Virginia Triathlon Series event in Fauquier County. Located just passed the exit for "Old Town" Warrenton and the Court House area where the ABRAMS LANDAU Law firm has represented injured workers, car crash survivors and the families of brain injured victims, the bike course takes races on Route 29/211 and the run course is a very challenging two loops. It was only after the race that Brannock showed Lawyer Landau his cuts, bruises and swelling ! Brannock raced on a borrowed bike, ran with the wrong shoes and was limited by his battered joints. Nevertheless, despite these handicaps, and the 2 hours time differential coming from his home in Colorado, John had a strong showing and even won a prize for having come to Fauquier County from the mid-west ! Congratulations John Brannock !