Reston Century takes cyclists through Fairfax and Loudoun roads and bike trails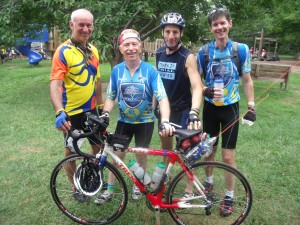 The 28th Annual Reston Century took place today, starting and finishing at the Reston Town Center Pavilion. Over 1,200 bicycle riders enjoyed the excellent weather, Virginia's rolling hills, snow cones, lunch and a great t-shirt this year. Herndon sports injury lawyer Doug Landau also managed to eat a half dozen peanut butter & jelly sandwiches at the Loudoun bike rest stop, as he did not expect to do over 108 miles on his sprint triathlon racing bike !
Traveling with friends from Herndon, the Reston Bike Club and the WorldGators Masters team at Sport & Health, Worldgate, the Triathlon Trial Lawyer managed to finish in a little over 8 hours. The Triathlon Trial Lawyer saw no accidents, injuries, crashes or other mishaps on the roads or W&OD Trail. In fact, Loudoun County police were out to provide extra safety at otherwise dangerous road crossings and insections. While this is longer than any athletic event Landau has ever signed up for or ever plans to do, the athletic Virginia Trial Lawyer believes that it is important to have strength and endurance in order to succeed in sometimes gruelling trials. The Reston Bike Club puts on safe rides and other events, and Landau and his wife have joined in order to participate in their weeknight rides in Reston and Herndon.