USAT Director Skip Gilbert & Triathlon Trial lawyer Doug Landau discuss biking laws, racing and cycling safety at National Championships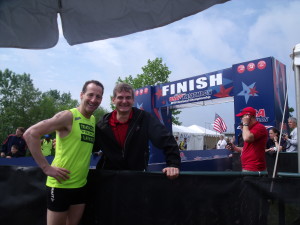 Finding the news of the arrests of charity cyclists and triathletes "disturbing," USAT Executive Director Skip Gilbert was finally able to meet with Doug Landau in Richmond after the National Duathlon Festival in Richmond. Gilbert told the injured athletes lawyer that he would, "see what we can do to help."
Landau noted that, "when Loudoun County authorities arrest the runners, they will have achieved the 'Triathlon TriFecta' ! First the "Speedo 6," then the "MS-8." What will be next ? Bringing the Loudoun County Sheriff's Paddy Wagon to the Leesburg 10/20 km or LoCo Triathlon ? Cuffing Potomac River Runners at the Twilight Festival if they do not come to a complete stop at a stop sign or stop light during their warm up and/or cool down ?" A lot of area athletes are upset, as are the police & prosecutors. When NBC came out to the ABRAMS LANDAU law office by the Herndon Caboose (the 20 mile mark of the 50+ mile W&OD Trail from D.C. to Leesburg), the filming revealed that NOT A SINGLE CYCLIST knew that they could:
lose their driver's license,
get points on their Division of MOTOR Vehicles ("DMV") record,
be convicted of a moving violation, and
have their insurance rates adversely impacted.
Landau's own polling of Reston Bike Club members, discussions with Winchester Wheelmen and Tidewaters bikers, yield similar results. So Landau and Gilbert have been corresponding for months as the sports injury lawyer was advised to contact the USAT before "Round 3." In the interests of safety and consistency, it is hoped that a coherent policy, rules of the road and enforcement will be promulgated.