Landau RUNS the bike rather than riding !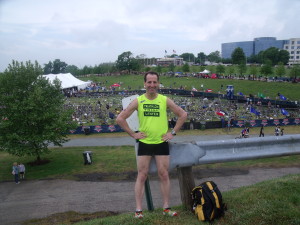 When you're competing at the national championship level, every second counts. In order to be one of the fastest multi-sport athletes, Herndon injury lawyer Doug Landau practices dismounting from his bike and immediately running at top speed. The Triathlon Trial Lawyer also practices getting in and out of his bike shoes, which are attached to his racing bike pedals, without crashing or causing injury, while going 20 mph so as not to lose time in the transition area of a Duathlon or Triathlon. At last year's BRATS Vint Hill sprint triathlon in Warrenton, he finished 4th overall by less than one second ! So at this year's National Duathlon Festival, when Landau's bike flatted on the third and final lap, rather than quit (never an option), wait for a ride (and disqualification) or walk, he instead opted to keep from going hypothermic and ran across the Lee Bridge. When he approached the finish line area, he was greeted with:
"You're supposed to ride the bike !"
"You got off too soon, the transition area is 600 yards ahead !"
"Where are your shoes ?"
Landau got out of his shoes and ran about 3 miles barefoot before he could get into the transition area. He kept his bike helmet on, as USAT Rules mandate disqualification for removing your helmet before your bicycle is safely racked in its numbered sport. So the Herndon Reston Triathlon lawyer looked quite foolish running down the street toward the spectators in his aerodynamic racing helmet with no shoes or socks ! However, Landau avoided injury due to his barefoot training and managed to finish in just under 2 hours.