Preparation critical for USAT Duathlon National Championships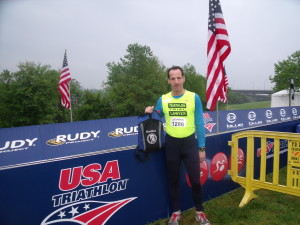 Just as with his personal injury trials, workers compensation and Social Security Disability hearings, Doug Landau spends a lot of time, effort and money preparing for major athletic competitions. The Triathlon Trial Lawyer's goal is to prepare to win all races and cases. Others may be "natural athletes", but the ABRAMS LANDAU litigator has learned from his days running track at the Hotchkiss School that careful preparation, smart training and consistent effort can pay off in the long run.
In order to be as ready as possible for the early season championship, the Herndon sports injury lawyer rode twice weekly in intense indoor computrainer classes at HPC and performed "brick" workouts when the weather would cooperate, combining biking and running without resting in between. As the National Duathlon Festival feature race would consist of a 5km run, a 38k road bike followed by another 5k run, Landau knew he would have to be in peak shape in order to be among the top finishers. He also previewed the course Friday and Saturday, even though he was generally familiar with the area from racing this venue the last 2 years and training on Browns and Belle Islands in downtown Richmond, Virginia.