Running MAD 5k, Doug Landau supports James Madison High School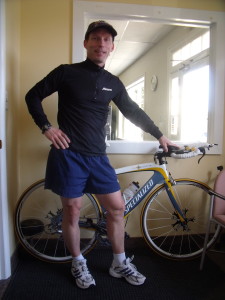 How often do you see a high school sports team run a 5km together ?  And how often do you see teen age athletes singing and cheering as they near the finish line after a challenging 3.1 mile run ?  The James Madison High School women's lacrosse team did just that today at the annual "MAD 5K Run & One Mile Walk." Several hundred runners turned out to run through the Vienna hills.
TriathlonTrialLawyer Doug Landau entered the race as in order to do a "brick workout," which is a run and bike ride together.  In this case, Landau did a hard run followed by a long bike ride on the W&OD Trail, just down the street from James Madison Drive !  He rode the 17 mile round trip from the Vienna Caboose to the Herndon Caboose after visiting with his friend and former training partner Mark Lander at the Evolution Health & Fitness center across from the Caboose.  Lander used to head up the training programs at Worldgate Sport & Health, and has been a superb long distance multisport athlete for many years.  He is an exercise physiologist and the owner of the state of the art Evolution facility.
The Herndon Reston area injury lawyer managed to average 6:35/mile which was good enough for 3rd in the 40-49 age group and 21st overall.  After the second part of his "brick," Landau tossed his bicycle, helmet and bike shoes into his car and promptly set about doing weekend carpools, chores and got a nap in before checking on his Spring garden seedlings.  Just the usual weekend day for the busy, traveling trial lawyer !