Can I Sue My Employer If I Was Injured While Working?
In Virginia, like many other states where Herndon injury and disability lawyer Doug Landau is licensed to practice law, if you are injured while working and your employer has workers' compensation, you cannot sue your employer.
Instead, you should report your injury to your employer immediately, and either file a claim with the Virginia Workers' Compensation Commission no later than two (2) years after the accident, or reach out to an experienced workers' compensation attorney to help you through the complicated administrative legal process. If you are afraid of the costs in hiring an attorney, we can assure you that the Northern Virginia Abrams Landau law team does not get paid unless we settle or win your case. That is why it is called a "contingent contract." It is "contingent upon our winning your case or settling your case."
There are exceptions as to when you can sue your employer if you were injured while working.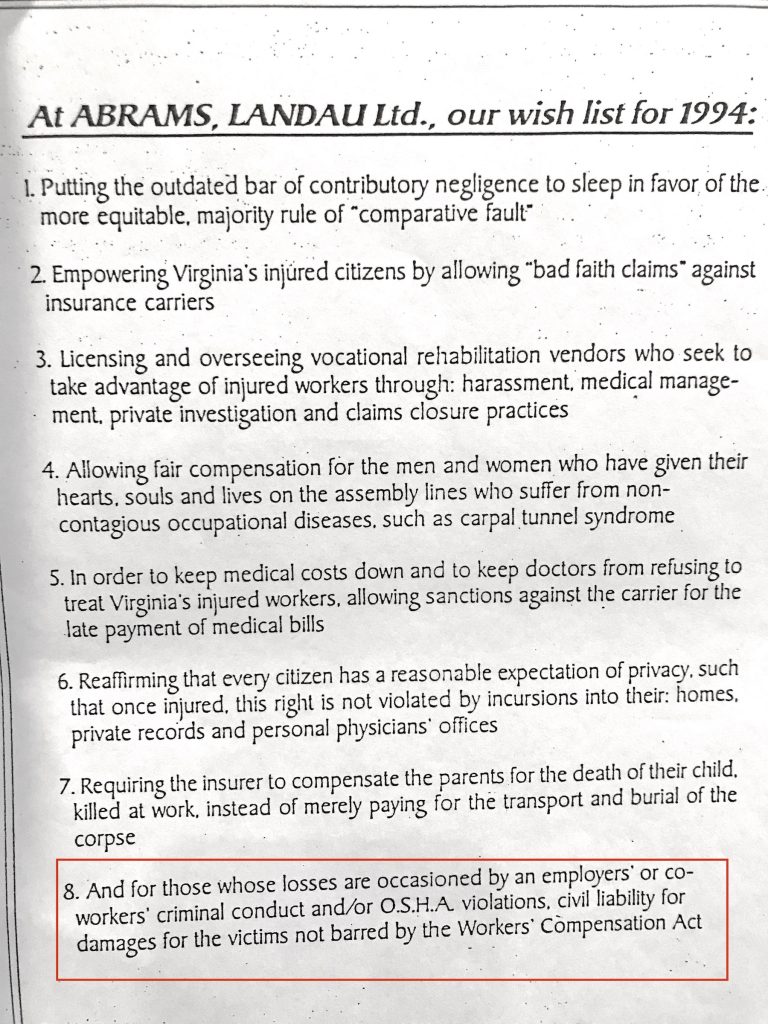 If the employer never purchased workers' compensation insurance when they should have, you can then sue your employer for your on-the-job injury. An employer is required to purchase workers' comp insurance in the state of Virginia if they have three or more full-time regular employees. Therefore, it is always safer to seek out an experienced workers comp attorney to ensure all your bases are covered and you receive the full help and compensation that the law provides after your traumatic injury.
There are other scenarios where you may be able to receive compensation from other parties involved in the incident. If you were injured while working, due to the fault of a third-party completely unrelated to your workplace, you can file a claim for workers' comp through your employer and ALSO sue the third-party defendant who caused the injury.
For example, if you were on-the-clock and driving for work and you were hit by an unsafe driver who is not an employee of the same company you work for, you should be able to receive workers' comp and also sue the person who hit you. The Abrams Landau team can help manage all aspects of your case as we have decades of experience in workers' compensation, personal injury cases and Social Security Disability claims.
If you or someone you know was injured due to no fault of your own and you have questions as to what laws apply, please give us call (703-796-9555) or email us at Abrams Landau, Ltd.