The Richmond Tri Club Sprint was to be Landau's first three-sport race of the season. Starting with this Virginia-Maryland Triathlon Series (VTSMTS) event, he had hoped the indoor "open water" swim would help gauge his condition after a double hernia surgery in December.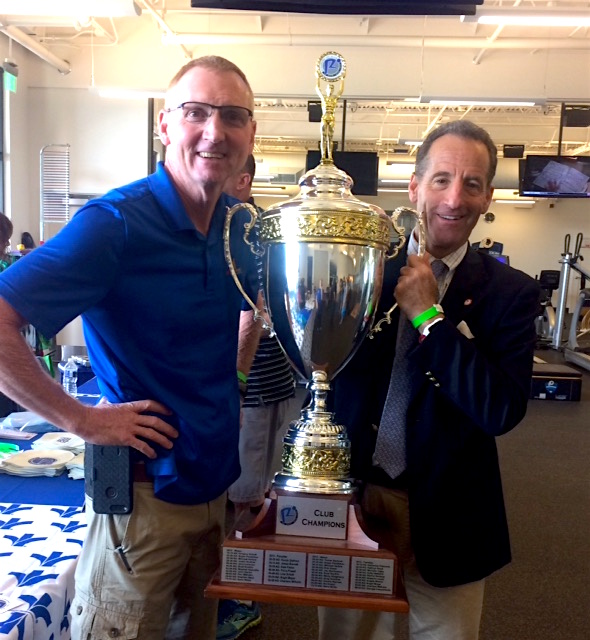 The Richmond Tri Club Sprint is put on by the wonderful folks at VTSMTS along with the Richmond Triathlon Club. It is a very competitive race and also the club championship (with an enormous trophy with the winning team members' names engraved on it for posterity!), so bragging rights were on the line. While Landau is still missing his top end speed, he was hoping to survive the swim, pick off the field on the bike and then finish off those that remained ahead of him in his category on the 2-loop run course around the Richmond Kickers complex. Last year, he popped his soleus muscle after coming out of the second transition (hopping the rest of the race to the finish!), which took several months to heal, so Landau was approaching this first triathlon of 2017 with some trepidation.
This year, Landau had a slow swim, but a blazing fast first transition. However, not a quarter of a mile out, he noticed something rubbing and a strange sound coming from the rear wheel. Apparently the QR toolbox holder was rubbing against the wheel. He stopped cold to see if he could fix it, and a race volunteer came over to see what was the matter. While his competition was whizzing by, Landau studied the problem: this rubbing could cause a flat, a crash and a season-ending injury. The volunteer eventually diagnosed the problem, and they used rubber bands from lawyer Landau's wrist to try to hold down the offending loose piece that could've caused a flat tire. Landau soldiered on, with only a slight rubbing against the wheel when he shifted his weight back from the nose of his saddle. Fortunately, the wet conditions also helped ameliorate the friction and heat problem. Landau normally likes dry roads, high temperatures and wide-open roadways.