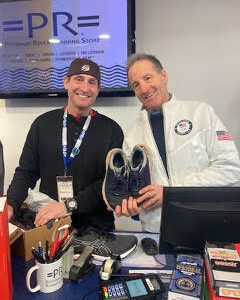 Stinky Shoes? There's a Solution!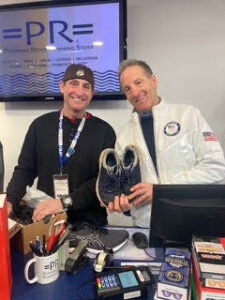 When Doug Landau has worn out his athletic shoes, he typically takes them to donate where they get ground up into running tracks or other environmentally friendly initiatives.
.
In the Northern Virginia region, the Potomac River Running stores have a program for sneaker recycling. Landau has brought many pairs to Potomac River Running for this purpose. Recently, Landau and Chris Gellene exchanged shoes at the Reston Town Center store. Landau was purchasing new running footwear for his daughter and son-in-law, taking in a number of pairs that the Landau family had put lots of miles on. Chris was kind enough to not comment on the smell, as Landau and his daughters all have fragrant feet for which "odor eaters" are no match!
.
The Landau's signed up for the Potomac River Running Race Series and running shoe offers. Doug and his wife have pre-paid for several races, and get a pair of running shoes in the mix. Typically, the Landau's run three to six Potomac River Running races each year, usually in the Late Fall, Winter, and early Spring, as that's the triathlon "off-season." With the outstanding timing team of Commonwealth Race Management, Landau sees race announcer Leslie Green frequently at these PRR races, and experienced & affable Course Marshall Tom Cook before, during, and after these events.
.
Ready to toss your old, worn out shoes? Instead of tossing them to the wind and giving a grand farewell, drop them off at your local =PR= store. Potomac River Running is proud to partner of Got Sneakers who takes your old shoes and gives them new life! By donating your shoes you are helping keep the planet greener and also turning your trash into treasure. Each year over 200 million pairs of shoes end up in landfills but with your help we can reduce that number just by taking a trip to =PR=.  After you donate your shoes, we send them off to Got Sneakers. From there, they take your shoes and either donate them to those in need or take them and turn them into something new! So what are you waiting for? Start cleaning out that sneaker closest and stop by today to drop off your old shoes. As if you needed a reason to come to the store?!? Just think of it as an excuse to visit the store, just don't blame us if you come home with a new pair 😉
.
In addition to Potomac River Running's wonderful sneaker recycling program, they have an environmentally friendly program to replace and reuse the wrappers/containers from energy gels that triathletes in long-distance runners typically consume to keep their energy up. Rather than littering on the racecourse, turning them into Potomac River Running is a great way to be environmentally conscious and also "kill two birds with one stone" since you're probably going to be buying running equipment, nutritional, or other sports gear there anyway. Who knows, you may even run into a Lawyer Landau or a member of his family turning in more stinky shoes and buying the wonderful products that they sell at Potomac River Running!
.
Don't be trashy, instead keep your trash and bring it to Potomac River Running. Did GU know that Potomac River Running is a proud partner of the TerraCycle program? You can bring any of your finished nutritional product wrappers to our store. That's right, we will take your trash – wrappers, tubs, etc. Then we send it to Terracycle for them to work their magic! They turn all that trash into good by creating new products like playground pieces, furniture, and more! Learn more about the TerraCycle program and all the ways you can help eliminate your waste!
.
If you have any questions, please contact us at 703-796-9555 or email frontdesk@landaulawshop.com.