DOUG UNABLE TO FINISH A RACE?
First DNF (did not finish) in 40 years of Multisport Racing – Doug Landau posted a time for the Swim, Bike and both Transitions, but was unable to bend down to put on his racing flats when his back locked up this month at a race.
For the first time in 40 years, where he has been racing in triathlons, duathlons, equations, etc., Doug Landau was unable to finish a race. Taking part in the Mudge Pond Sprint Triathlon, Doug Landau was anticipating being near the front of the pack, winning his age group again, and having a fun time with friends in Sharon, Connecticut. However, driving up Wednesday night to New Jersey, he noticed that his back was a little tight.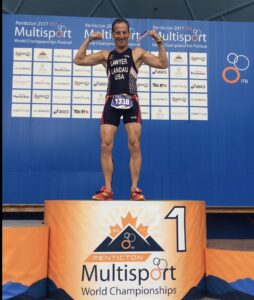 Thursday and Friday Doug noticed that it was not radicular, but very tight and hard to bend, so he took it easy. Lining up on Saturday morning at Mudge Pond Beach, he did a little bit of a warm-up and hoped that the warm water, wetsuit, and having his triathlon race bike would enable him to stay near the front of the pack, and then see what he could do on the run. Lately, his running speed has been slower than eight minutes per mile on average for anything more than 3km.
When the gun went off, Landau kept his excitement in check and had a good swim without any pain or discomfort.  Because of the "seaweed" in this freshwater swim, he was able to get a good "pull" and be in the Top 20 coming out of the water. Upon getting on his bike, Doug was able to slip into his shoes and take on the very challenging, rolling course. He did not get out of the saddle, except when absolutely necessary, so as not to test his un-taped left foot, where the torn plantar fascia was still an issue. Landau only started run training without taping a fortnight earlier.
The bike was a bit slower than last year, but he was still within the Top 15. Doug was hopeful that his overall fitness would help him in the run. However, upon dismounting the bike and getting to the racks, Landau's back seized up. He could not bend down to put on his running shoes, even though they were on top of his trademark milk crate! He went down on all fours trying to loosen up the back but to no avail. His friends were yelling for him to at least cross the line so he could get a time for the swim and bike, as this race notes the time after two events and then the final finish.
Landau did that and then advised his friends, Peter Hawley, former Hartford Track Club President and race scorekeeper, Race Director Matt Mette, as well as Will Graustein of Greystone Racing, that he was not able to continue. They suggested he walk the run course, but that's not Landau's style. He also felt that it might make things worse. Besides, he was hosting the annual homeowners association meeting in two hours, and this way he can get home a little bit earlier to do to get ready, and shower with soap!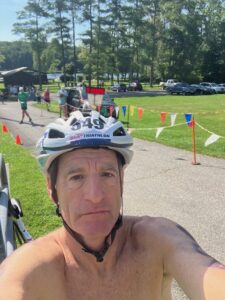 Landau, ever the optimist, always looking to see the good and tough situations. He was able to get hot pizza from Deano's, before any other racers (except for the relay team members). "It's the first time I ever got to open the pizza boxes before anyone else!" noted Landau. He took a hot shower when he got home, put a 4% lidocaine patch on the affected area parallel to his lumbar spine, and took Advil for the first time since January. This was a first since he had undergone the PRP injections during the winter for the torn plantar fascia.
His PRP protocol included: no NSAIDs, caffeine, alcohol, anticoagulants, or artificial sweeteners. Landau rested after the meeting, laying down on a pillow, using the Theragun, and took the next three days off from all training. While his back is improved, he is unlikely to race this week, and he's not registered for any races before he leaves for 10 days to the West Coast for a family wedding, visits with counsel, and classmates.
Landau noted that he has had several crashes during triathlons, but always finished. At the Greenwich (CT) Cup, he wiped out on a wet, uphill turn. However, he sustained no injuries or road rash on his hairless, Pam-covered body (he uses to cooking spray to get out of his wetsuit, more easily!).  Again, at the ITU Triathlon in Naples, Italy, he wiped out badly on a hairpin turn in the peloton, while trying to mix his drink bottles. He managed to bang the bike back straight, hop back on, and finish the race. His shirt was torn nearly off, and his shoulder was bleeding for the rest of the week. He had no infection because of the removal of the body hair and quick prophylactic treatment after finishing. Closer to home, he had walked most of the 10km run at the DC Triathlon after a cardiac event. In a Miami 15km road race, he went out at a 5:20 mile average and had to walk after km briefly before continuing. Another instance of being forced to slow down occurred after a tire puncture on the "Nickel =ridge" with only 2km left of the bike portion at the US National Duathlon Championships in Richmond. He was able to run barefoot at a seven-minute-per-mile pace and complete the race.
"This DNF really hit me hard," said Landau. "I have never, not finished a triathlon. Not in 40 years. I've been really struggling, and I have not participated in the 2023 National Championship Multisport festival event or last week's National Championships. Because I did not compete at Nationals, even though I am the reigning Mid-Atlantic Sprint Triathlon and Duathlon Champion, I am ineligible to compete at the World Championships next year. I had hoped to make it to one of the three World Championships I qualified for this year, but my trial schedule, family obligations, and health made it impossible."
"I just hope to be able to successfully complete races this fall, including several in the Kinetic Multisports Series that I have sponsored, as I've not done a single one yet in 2023! I will have to go back to the drawing books, not because of this muscle twinge in my back, but because it's clear that I lack the top-end speed necessary to compete at the very higher levels I've been accustomed to in the past. Difficult trials need to be worked around so that I do not lose significant fitness working and gain a lot of weight during trial preparation. It's all about balance and priorities. Exercise is my Ritalin, but also it helps me to keep a positive outlook, maintain overall health, and have the endurance to help my clients, friends, and family the way I have become accustomed to doing. We can't win every race, and sometimes we can't finish our race, but if we keep on track,  and keep the big picture in sight, the overall benefit and positive energy outweigh the negatives. Hoping to see everyone at the races again soon, and to finish with a smile."
If you or someone you know is interested in triathlons, duathlons, or have questions for Doug, please contact us at (703) 796-9055 or email frontdesk@landaulawshop.com.