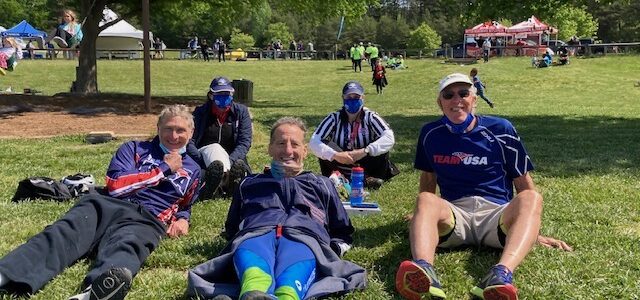 Kinetic Triathlon Festival at Lake Anna: a Spotsylvania Super Sports Weekend
How many race directors can bring out the sunshine for awards ceremonies and picnics post race?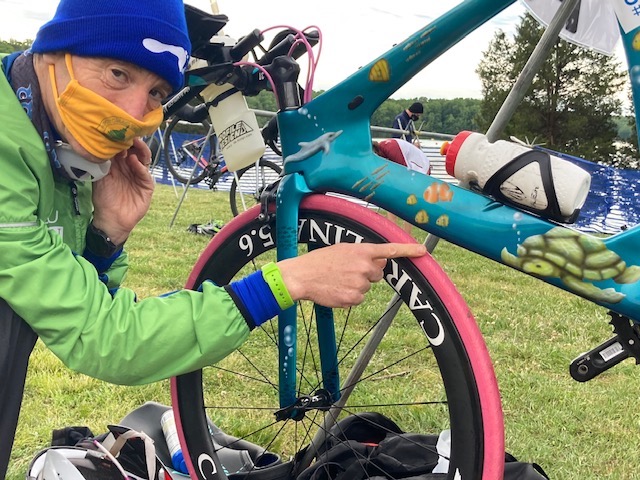 The folks at Kinetic Multisports did just that this weekend at this eponymous event halfway between the State Capitol in Richmond and the Nation's Capitol in Washington, D.C. The Kinetic Triathlon Festival at Lake Anna State Park in Spotsylvania, Virginia, started on Friday evening with a "Prologue" and also a "Splash & Dash,." The fun then continued with Half Iron Man and Olympic distance races and an AquaBike and Relay races, and concluded on Sunday with a Sprint race that was fiercely contested by top regional and nationally ranked athletes. Not only did the LiveRed/Team Endorphins folks show up in numbers (and all ages), but the Naval Academy in Annapolis sent top triathletes as did Herndon, Virginia's SportFit labs, TeamZ, & FeXy, etc. In fact, in a shocking upset, top Kinetic finisher from 2019 Jacob Capin did not even make the overall podium, but instead had to settle for an age group win. The Naval Academy took top spot, Michael Harlow of Richmond's Team Endorphin was on the overall podium, and a number of other Endorphin-trained athletes also made the top age group standings.
It was wonderful to see many of the youth, junior and other young triathletes who had also been at the East Coast Triathlon Festival & Worlds Qualifier at Innslake the week before, participating in Kinetic Multisports events. The support from the LiveRed/Team Endorphins coaches is outstanding, and bodes well for the future of the sport.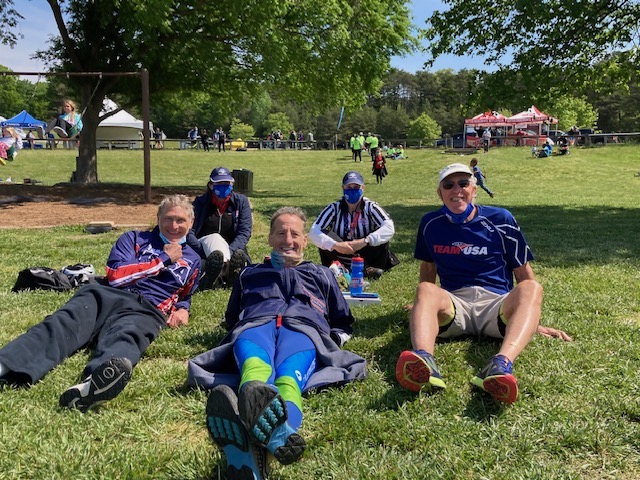 Trial lawyer and series sponsor Doug Landau enjoyed seeing many familiar faces, helping younger athletes and making them laugh. On the other end of the spectrum, he was thrilled to see his roommate from several national championships, top 65 & over Triathlete Tom Stroup. Great Falls resident Stroup has competed at a number of World Championships, and is a consistent top-scoring multi-sport athlete who always gives full value. While Landau simply "double'-capped" to keep his head warm during the 750 meter swim, Stroup wore a neoprene swim cap, replete with chin strap, under the race cap, to hold in body heat. Landau also had another athlete pour hot water down into his wetsuit, to make it more malleable & so as to have a warm payer next to his body. This was due to advice from Dr. Allen Delaney, and it had helped in the past.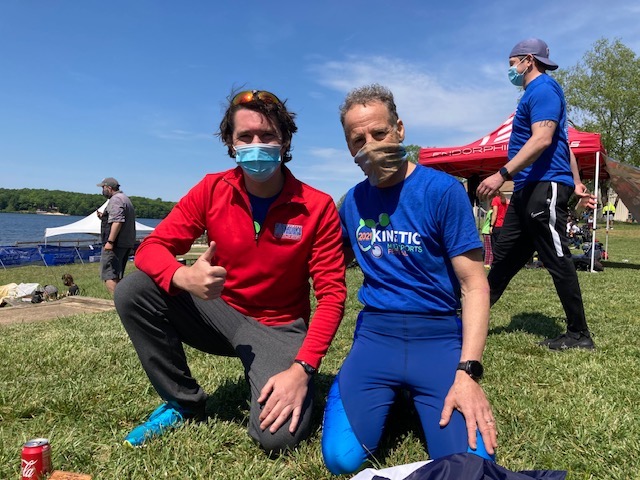 In the 70+ category, Landau's friend David Conover also won his division, and was in front of Landau as they came out of T-2. Also racing for the first time in 10 years was Landau's friend and DUathlon National Championships roommate Michael Hamberger, a.k.a. "the DC running coach." Hamberger has also competed at the World Championships for the United States of America, and is an especially gifted Duathlete.
For his part, Landau knew the conditions were going to be cold. In fact Mrs. Landau declined to race because of the water temperature in the 60s and the air temperature in the 40s. The swim was obviously wetsuit legal, and Landau not only opted for his long sleeve wetsuit, but even wore a long sleeve turtleneck underneath! He even considered mittens for the bike ride. In order to maintain physical distancing, there were no heats as there would be in the past, based upon age groupings or gender. Instead, everyone would self seed, and call out their numbers as they crossed the timing mat. Lawyer Landau opted to start about 30-40 places down, approximating his overall finish placing, behind friends (& age group favorites) David Conover and Tom Stroup. Because of the physical distancing, there wasn't a usual gunshot and melee. Landau felt that he had a good, clean, quality swim, though several minutes slower than where he had been in years past. With a fast run up the hill to the transition area, past several athletes, but fighting with his wetsuit and unable to feel the buckle on his helmet with his frozen fingers, Landau was unable to have one of his fast transitions. Once on the bike, on the climb uphill from the lake, 2 1/2 miles out of the park, Landau worked hard, but hit the 5 mile marker and just under 16 minutes, and a 10 mile marker at 31:20, suggesting he wasn't even at 20 miles/hour average speed. Knowing that the last few miles were downhill, he put "pedal to the metal " and was able to average over 20 miles/hour and pass a few athletes in the very end of the bike section of the race.
Again, he could not feel his fingers to unbuckle his helmet, and so he used his teeth to open the strap, and likewise had difficulty getting his shoes on. However, once out of transition, Landau worked on his turnover so as to catch athletes on the uphill out of the lake area, and was able to pick up the pace a bit. Nevertheless, the run was slow, and when the final results were turned in, he was runner-up in his division to Vincent Ortiz, a top triathlete from the Tidewater area, who had done the Half-Ironman race the day before! Landau had done about 15 minutes of racing Friday evening to Ortiz's over 5 hours of work the day before, where the Tidewater triathlete had also made the podium.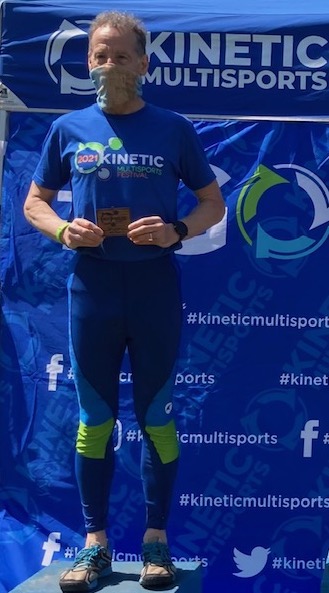 On the upside, in prior seasons, Landau has finished off the podium in his first couple of cold-weather races, and thereby not gotten very many points towards the Virginia and Maryland Triathlon Super Series standings. In the past, when he has completed the requisite number of races to qualify, he has either been winner or runner-up. The Herndon helmet lawyer is hoping to do as well in 2021. While Landau did not get maximum points, and not race in the previous 2021 Kinetic Multisport events, he is now "on the scoreboard, " and has signed up for 4 other races. The rules of the Kinetic Multisports series mandate that you complete 5 or more races to be in the series for overall awards. If you do more than the minimum number of races, they only count your best 5 events. If you do not finish a race if you do not if you sign up for research don't start, you get no points. Landau must start and complete all 5 races he is registered for, and in order to be on the podium for the overall series, he needs to medal at everyone of the events he is slated to contest. In the past, other triathletes in his Division have completed 10 or more races, sometimes completing 2 races in the same weekend.
Given his performance at the East Coast Triathlon Festival race in Richmond, which was which took place in 80° heat, Landau feels more comfortable and confident in hot conditions. This is because he can feel his feet, toes, hands and fingers. As the season progresses, he expects to get faster.  With last week's easy week, and 2 "taper" weeks before the USAT Sprint DUathlon National Championships in Alabama, he hopes to finally get to the starting line so well rested that he is "jumping out of his speedo." This stratagem was suggested by Dr. Allen Delaney, formerly the practice manager, with Commonwealth Orthopedics. Dr. Delaney, who along with his wife & accomplished physical therapist Mary, had coached the Triathlon Trial Lawyer successfully, before moving to Florida after his retirement.
As is their M.O., Kinetic Multisports had plenty of smiling volunteers out on the course,;knowledgeable staff taking care of an efficient packet pick up and registration; and, an award ceremony that started on time and ended quickly. With drone footage overhead; video cameras on motorcycles; and cameras carried on foot, there would be plenty of pictures to share. Even the awards ceremony was filmed digitally. 
Chessie Photo
made sure that there would be plenty of photos and footage for all athletes to enjoy. After completing the race both Landau and Stroup took off their wet long sleeve gear, change it to jackets, got warmed up so that they could feel their appendages during the awards ceremony. This venue is lovely for picnicking, with children's playgrounds for kids to use while their parents are racing. The Lake Anna State Park has a beach, tiered seating, indoor/outdoor bathrooms and changing areas. Landau went back into the lake after the race for 5 minutes of cold temperature hydrotherapy, as it reduces the swelling and inflammation in tired legs. He was feeling no pain the rest of the day. The challenging, rolling bike course was 25 km instead of the usual 20. Landau did not see any crashes, or "near misses," and a safe race was held for all the participants. They were number disqualifications, for one spouse accompanying another; an E bike pacing someone; and other violations of USAT rules. Two days after the event, Landau looked at the penalty board on the recommendation of his son, and saw that he got a two-minute penalty for "positioning quote. This is not the same as drafting, and Landau can only surmise that he must've crossed the imaginary centerline at some point on the road during the Bicycle section of the race. He still would've been a runner up in his division, by less than a minute. He obviously did not think to even look at the Penalty Board on race day and did not challenge the officials' ruling later. Landau's first penalty in a Triathlon over 20 years ago was also for crossing a line on a tight turn at Colonial Beach, Virginia, and he did not contest that ruling either.
Finishers were treated to watermelon, candy, granola bars, sodas, Gatorade and hot pizza, which was most welcome. Pre-race packets included T-shirts, swim caps, balclavas and your choice of socks from other races, since last year's season was not able to be held. There was lots of surplus, as these 2020 items must be ordered way in advance in order to get decent pricing. There was also free electrolyte powder available, as well as things for sale from the Kinetic Multisport store. Finishers were given a carved wooden medallion, water bottles, towels, and, in a classy touch, the ladies were given Mother's Day carnations.
If you would like to see where your fitness is, and enjoy multi sport racing in family friendly venues throughout the Commonwealth of Virginia and the state of Maryland, look no further than the
Kinetic Multisports website, click here
. You'll have a fun time, and even when the weather is cold, the vibe given off by the Kinetic Multisport staff will warm the cockles of your heart.