Rented Bike for Richmond World Championships Qualifier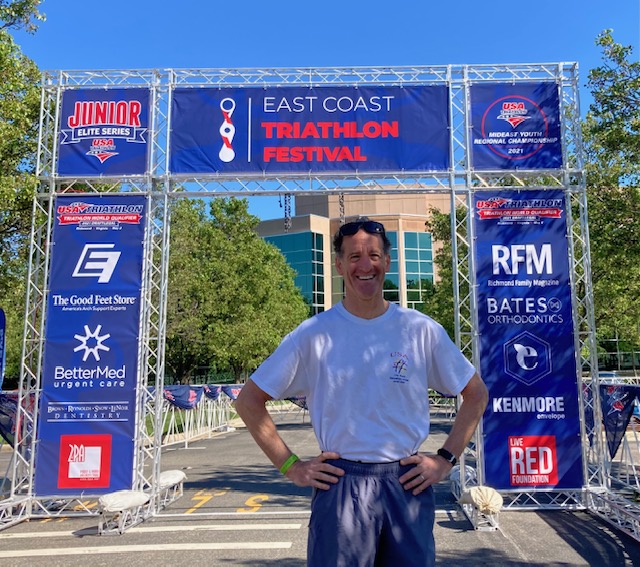 If there is a national, regional or world championship race within striking distance of the Landau Law Shop, you know Doug Landau is going to be at the starting line. When the USAT Draft Legal Sprint Triathlon was moved from Arizona to Richmond Virginia, recently, it peaked lawyer Landau's interest. While "draft legal" racing means packs on the bike, passing on the right AND left, pelotons working together, and different kinds of bicycles then the biking barrister is used to, he thought he would give it a try. He signed up for the the East Coast Triathlon Festival, with an eye towards making making TeamUSA once again.
Having only raced "draft legal" in 3-4 multisport competitions in his life, Landau realized he would be at a severe disadvantage on the bike portion of the event, which is almost 50% of the race. If he did not get out of the water quickly and jump on a fast pack of riders, he could lose many minutes out on the course trying to pedal solo, not to mention burn lots of matches before getting to the run. Nevertheless, he had had some good results at the short distance races. 
Landau had just won his division in the USAT Mid-Atlantic Sprint Duathlon Championships in Hagerstown Maryland, and last year won his division in the USAT Sprint Triathlon Mid Atlantic Championship in Bear, Delaware. Those podiums, along with hard winter training after his crash in September, suggested he might be able to qualify. In order to compete at the ITU Draft Legal Sprint Triathlon Championships in Bermuda in October, 2021, Landau would have to finish the top 10 of his category.  Landau now had a goal, but no bicycle he could legally ride in the race!
.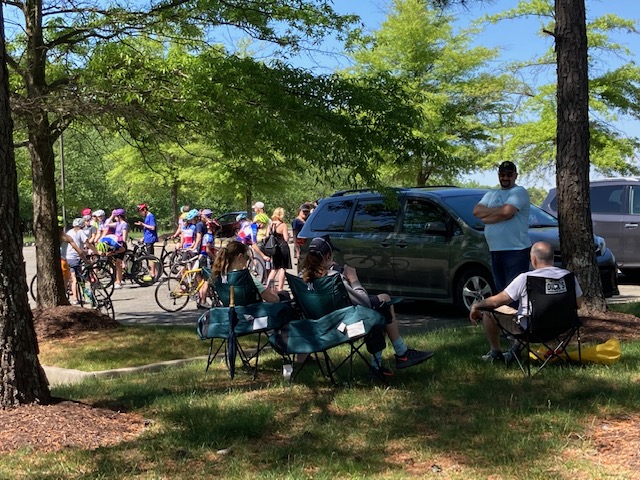 So, in the week prior to this race, Landau rented a bike in Atlanta Georgia in order to compete in a non-draft sprint triathlon during a deluge. Managing to stay upright, and getting in several days of cycling, Landau copped a podium place while visiting his youngest daughter! He then returned to Virginia and got a bike from Green Lizard Cycles in Herndon, that he could lease for the week. He also got lightweight racing wheels from his friends a Transitions Triathlon in Leesburg. He had been told during one of the excellent evening Lizard shop rides from downtown Herndon that his bike "was too damn heavy."
Landau stripped off all extraneous weight from the bike, including reflectors, tool bag, extra bottle cage, etc., in order to make it as light as possible, but he was still at a significant deficit compared to the athletes who were coming in from 42 states who had lots of experience on their own bikes in order to be on TeamUSA this fall.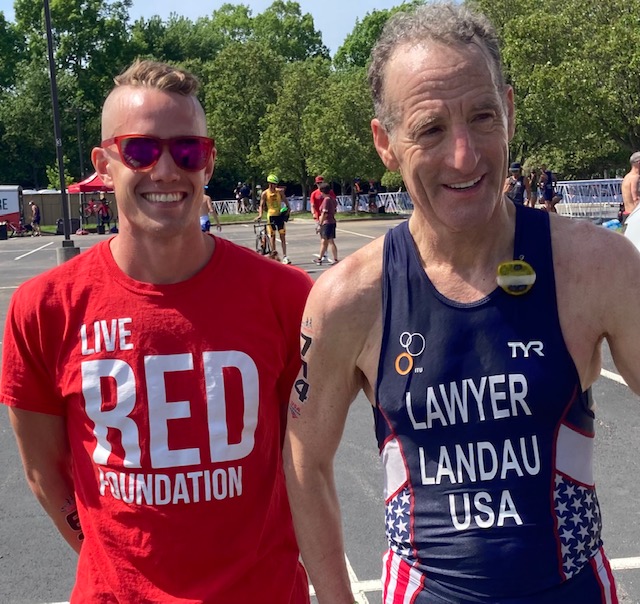 Landau got down to Richmond early, as his son is still stationed at the Yorktown Naval Weapons Station, where he serves as Regimental Surgeon. His fiancé has a home in Church Hill, and Landau was able to visit with a half a dozen lawyers & law firms before previewing the course. Just as he does for his trials, Landau likes to see the "lay of the land,"  so he drove, biked and ran over the course on Friday. He then took part in several Endorphin Multisport clinics on site, as he was concerned about safety out on the course. The Team Endorphins coaches who lead these clinics had a lot of experience at this race venue, and they went through group rides, practicing hairpin turns, drafting, transitions, and course strategy. Doug Landau has known race director Michael Harlow, who founded Endorphins and Live Red, since he was a boy. They have raced in Fredericksburg, Spotsylvania, Goochland, Richmond and elsewhere over the last THREE decades!
There were over 700 athletes vying for junior and youth championships, World Championship slots, team bragging rights, and podium spots. Landau was in the second to last heat of the day, at almost 2 o'clock in the afternoon, with the temperature in the mid 80s. He relishes hot conditions AND the ability to wear his wetsuit, both of which were here in Innsbrook. He was also thrilled that his son and future daughter-in-law would be there to cheer for him at the Innsbruck office lake, and the roads around Glen Allen, Virginia. The course was tight, with a 750M swim that required athletes go under a bridge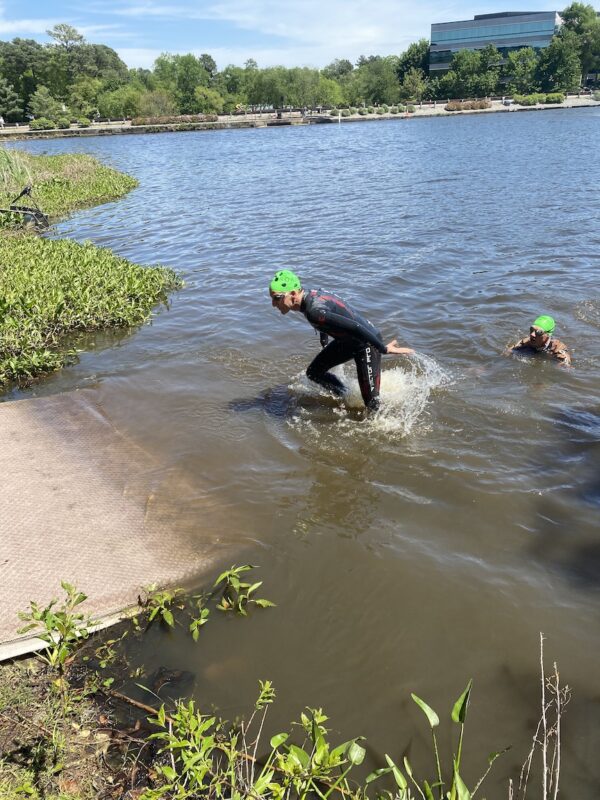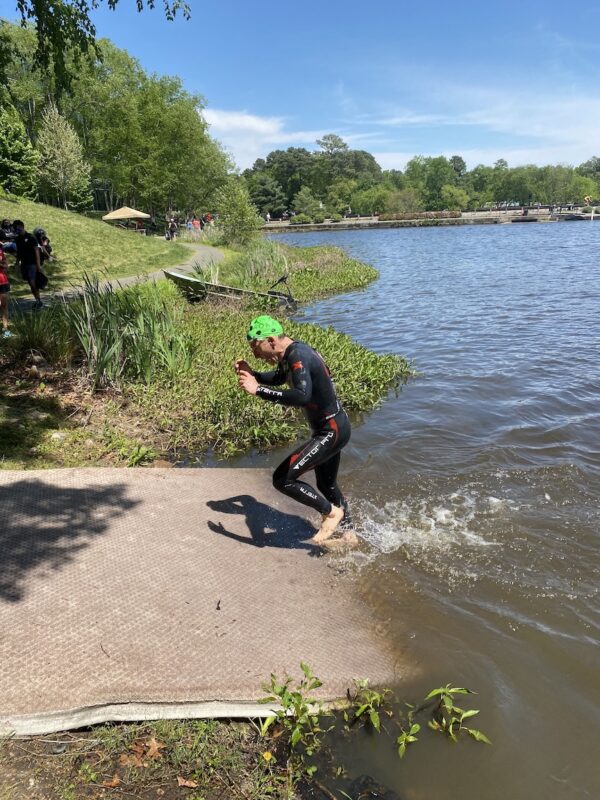 TWICE, with zero visibility in the water. This was followed by a 500M run to the transition area, and a technical 4-lap, 20 km bike ride. The course was set up with hay bales, lots of volunteers and markings, but Landau had a "technical" coming out of the transition area, when the strap on his shoe came apart. While he was able to get it sorted out, this cost him precious time. On the next 3 laps he was able to do some drafting, and some attacking, but was well back in the listings. Constantly accelerating and braking were a novel experience for someone used to being in the "aero" tri-bar position and just hammering out the Watts.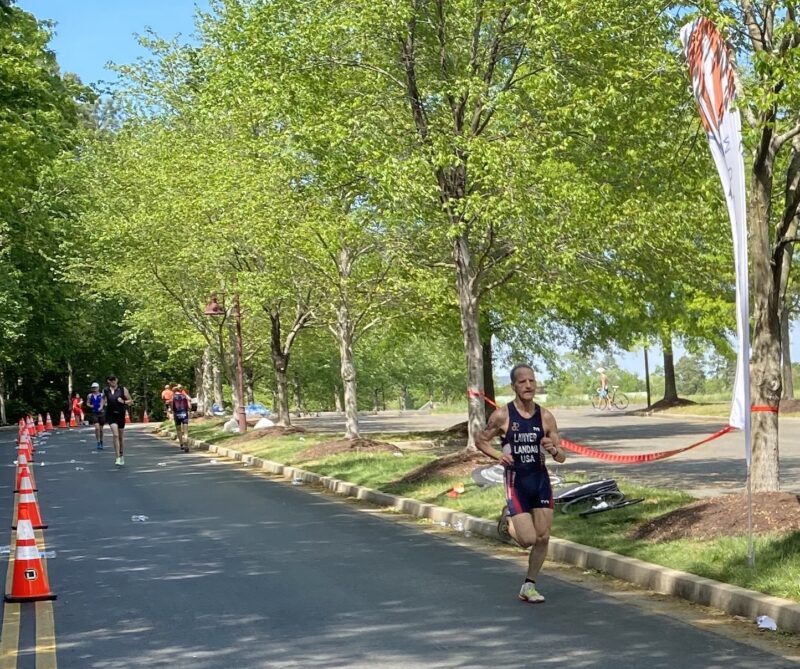 After another quick transition on fatigued legs, Landau set out on the 2-lap, 5K run course. His son and daughter-in-law yelled after the first 800M that he was in 17th place, which is would not be good enough for Worlds qualification. Landau managed to pass 2 athletes before he finished the 2.5KM opener, and then, he managed to pass 7 more in order to finish 8th in his division and qualify for TeamUSA at the World Championships in October. Lawyer Landau already was a member of TeamUSA for the Sprint Duathlon in September, carried over from last year's canceled competitions in Almere, Netherlands, and he hopes to take his 85-year-old mother (who is also been vaccinated), if there are no quarantine issues or other impediments to participating.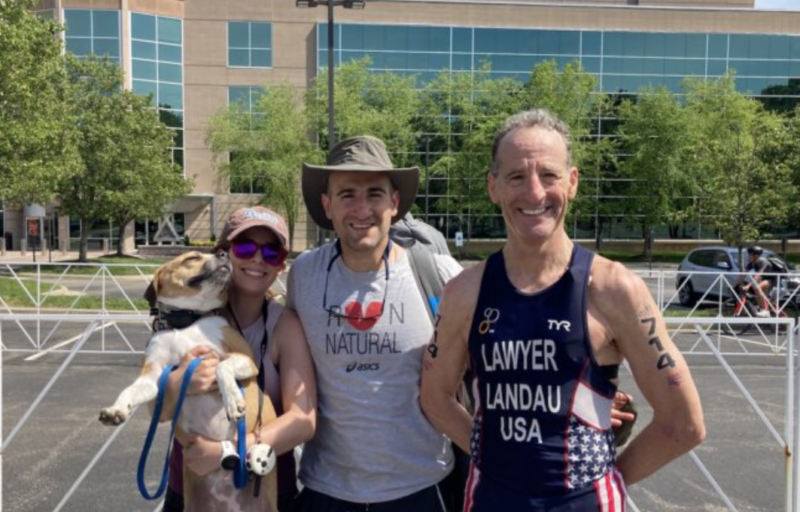 While this was not Landau's best race, he was satisfied to have accomplished his goal, and actually felt pretty good 10 minutes after crossing the finish line. He will take the next week pretty easy, before starting in with the Kinetic Multisports series of races, that the ABRAMS LANDAU law firm helps to sponsor. As far as competing in Bermuda in draft legal format, Landau will either rent a bike there, or invest in a proper UCI legal road racing bicycle before hand, in order to practice pack riding, tight turning, and attacking more aggressively at top speeds. Like Richmond, the Bermuda course is very technical, with a hill famous known as "the corkscrew." Landau does not intend to take his mother Bermuda, but perhaps Mrs. Landau, as a "thank you" trip for all of her hard work and patience during the pandemic. Who knows, she may even jump into the open citizens race and cop a prize!
Just like when the ABRAMS LANDAU team tries injury cases or Worker's Compensation hearings, it was a team effort. His friends at Herndon's Green Lizard Cycles were able to put him on a bike that fit, and which was legal for this kind of racing. Nearly all of the bike shops in Atlanta sold their inventory during the pandemic, so rental bikes are very hard to come by. His friends a Transitions Triathlon, in Leesburg, were able to put him on race wheels that worked with the disc brakes on the bike, which is safer and smoother into tight turns. And his friend Coach Rob Colburn of Colburn Body Concepts and the Worldgate Masters Swim group was able to help transport the bike in order to get bikes and wheels, transferred after swim practice while the itinerant lawyer was on the road.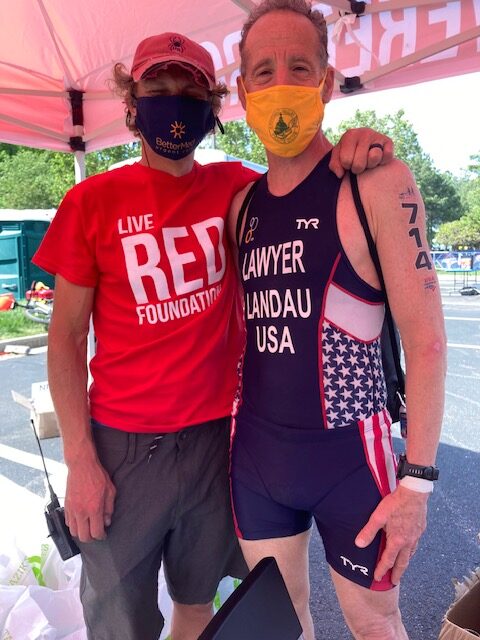 And, Landau would be remiss if he didn't think his son and future daughter-in-law, who cheered him on during the 10 (!) times he passed on this spectator friendly course. Lastly, the coaches race crew and members of Team Endorphin did their usual outstanding job of race production, support and positive vibe. Michael Harlow's several zoom clinics in the weeks prior to the race were helpful, and he answered every single question.  He was even written up in Triathlon magazine's "coaches spotlight." In racing like this, there are many technical rules. They include what you can wear, whether your belly button can show, when you can have a towel or a mat to dry off with after you exit the water, standing on the numbered spots at the start, penalties, etc. This was very different than the usual racing Landau does during the multi sport season. He met athletes from all over the country, and it was a very exciting day of racing. Landau looks forward to going to Bermuda (as he's never been to that island country), representing the USA, and hopefully turning in a good race.
Stay tuned for more multi sport action and results from the triathlon trial lawyer!