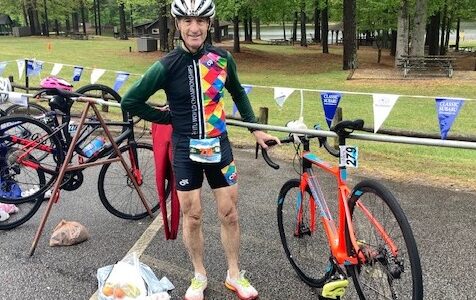 Rented Bike, Rain Deluge, Unfamiliar Course – No Problem for Lawyer Landau
How do you bike safely in a severe wind and rainstorm? "Steady speed, staying low and with BOTH hands on the brakes & drops!" relates Doug Landau. At the Tri the Parks series race 
 this weekend in Carrollton, Georgia, the multistage trial lawyer triathlete knew the wether report looked grim for race day morning. There was a 100% likelihood of heavy rain, gusting winds and there was even hail the size of golf balls around Atlanta.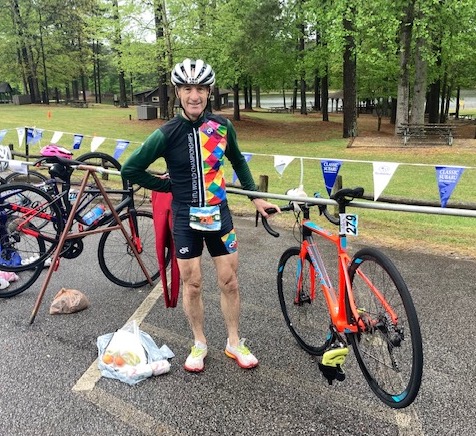 Vaccinated in March, the Landaus had a trip to Georgia to help with preparations for their youngest daughter's re-scheduled wedding later this summer. As was his pre-Pandemic M.O., the Virginia trial lawyer found friends to re-connect with, places to see, and a race to compete in. In his preparations for the Multisport National Championships in late May and early August, Landau had started participating in DC Metropolitan area road running races in order to assess how his "training in isolation" had progressed. While his sustained and top end running speeds are much reduced, and his swimming has been "Long Slow Distance"(AKA "LSD") and drills only, he felt he was recovered from his September bicycle crash in terms of aerobic capacity and endurance. His overall win at the Lake Accotink 5km and Mid-Atlantic Regional Sprint Duathlon Grand Masters Championship indicated that he could put together some good races. So an opportunity to do a sprint triathlon over similar distances as next week's ITU Sprint Triathlon World Championship Qualifier in Richmond seemed like a smart idea. Plus, it would give Landau an opportunity to ride a bike without "aero bars" as is required in international racing. Doug needed to find a UCI legal bike, in his size, that he could rent or borrow, as he has done a half dozen times before.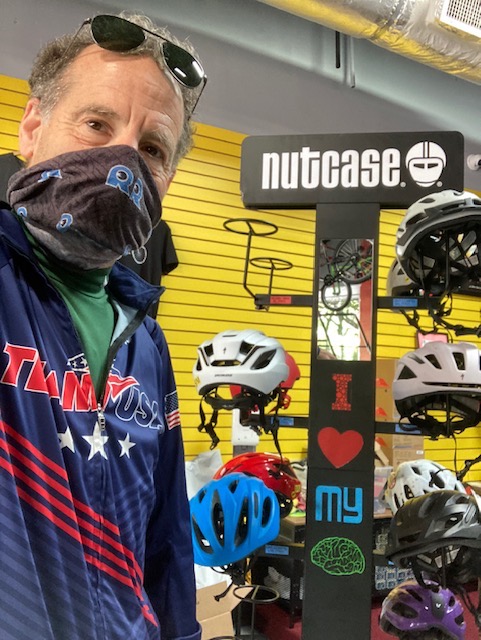 While most Atlanta area bicycle stores had gotten rid of their rental inventory or stopped renting bikes altogether because of COVID, Landau was able to rent from Outback Bike Shop. The friendly staff there helped put on his race pedals, adjust the bicycle, and sell him tent to keep his saddle dry in the Transition Area while he was warming up and out on the swim course during the Georgia monsoon. He had 2 days to familiarize himself with the bike, and he did so with some scenic rides around Piedmont Park, the Bee Line, and the John Lewis Freedom and Stone Mountain Trails.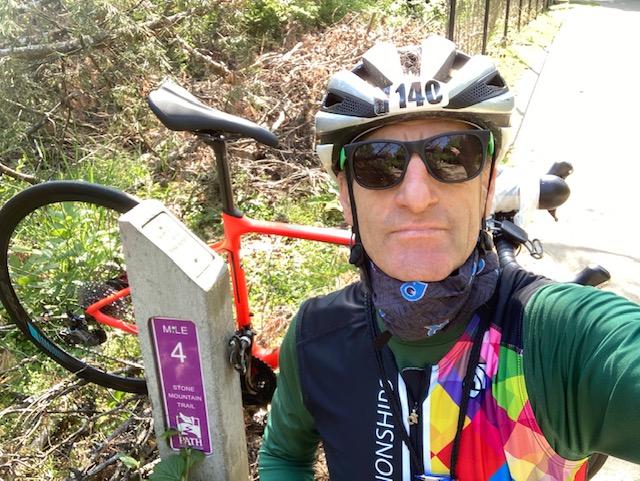 The morning of the race, Landau drove through the rain all the way to the Carrollton, Georgia venue. Upon arrival, after setting up his Transition area with the tent over the bike and bag on top of his running shoes (atop a cardboard box to keep them off the water flowing through the Park parking lot), he opted to race in a turtleneck under his singlet beneath his wetsuit, in order to stay warm and have the option of keeping his hands covered during the run. It would mean more weight and less flexibility, but Landau already espied athletes shivering as the race start was delayed for the storm. The full triathlon would be held, with a 600 meter lake swim (with no visibility below the surface), a 13.8 mile hilly bike ride and then a rolling 3.1 mile run on roads and trails. In addition to face masks when not racing, physical distancing and online registrations, participants lined up in numerical order, based upon their estimated swim times. As a late entrant, Landau was assigned race number 397, with only 3 competitors behind him! The race directors then sent everyone off at 5 second intervals. Lawyer Landau warmed up on the beach shore and his wetsuit on, keeping warm with his jacket and hat on until the very last minute. Starting off so far back, Landau was able to follow the buoys and the other swimmers despite low light and visibility conditions. Maneuvering around many other participants, he avoided the usual "mixing bowl"churning and had a "clean"swim and was not beaten up.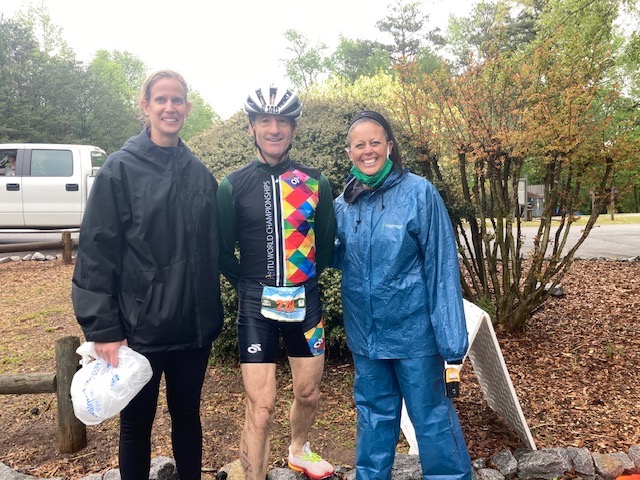 Once out of the water, Landau had a less than stellar transition, noting that the plastic bag covering his running shoes had blown away and his Atras were filled with water! Setting off on 2 wheels, he was able to stay vertical, keep low to avoid the cross winds and catch a half dozen riders. Monday he had done the Green Lizard ride in an upright position, holding 19 mph on a training ride (he normally averages 21.5-23.5 mph in competition). During this race, it was all he could do to manage 19 mph. The rain came from above, the sides, below and was at times stinging! But he saw no crashes, and while a number of athletes bailed during the swim or had equipment issues on the ride, there di not appear to be anyone needed medical attention. Plenty of police and volunteers were on the course, so the Race Directors for the Tri the Parks series seem to really know their stuff and come ready for anything AND everything.
Another mediocre transition into soaked shoes and Landau was off trying to catch additional athletes. Rolling his sopping sleeves over his hands, he kept his fingers warm, had several GUs, and while he could not feel his feet, felt no too terrible. Not knowing what place he was in, he set out around to get into a rhythm. The up and down running course had a turnaround at about the 2 mile mark, so Landau could see how far he had come through the field. Running hard as the rains abated, h managed to pass other triathletes while averaging 8:05/mile. He ended up 40th overall, 2nd in his age group and 3rd Grand Master. His time would have been good enough to podium in most of the other age categories. Because he had appointment back in the city, he left before the awards ceremony, but not before thanking the terrific Georgia race team.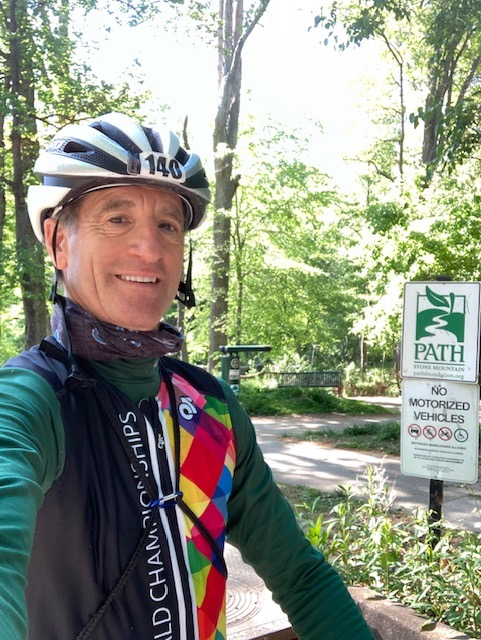 One of the smarter thing Landau did after finishing this triathlon, is to run his cool down in the cold lake water. This "hydrotherapy"was akin to a post-race "ice bath, which reduces inflammation and soreness in the days that follow. An option like this is not usually available, but he enjoyed this cool down and seeing the tadpoles swimming in the clean water. He also got in good nutrition in the 20 minute window so that he would be re-fueled and full of tissue repairing protein during this optimal physiological time period. Landau packaged up his soggy gear, looking "prune,"and feeling pretty good. If you have the opportunity to race in the Peach Tree State, the Tri the Parks series of Triathlons, Duathlons, AquaVelo and other events would be a fun time. Landau leaves for Richmond for the re-scheduled ITU WorldsQualifier, which was to be in Arizona. Tri-bikes/bars are not allowed, on a tight, multi-loop courses in Innsbrook. Landau's friend Michael Harlow, a top triathlete in his own right, and founder of the wonderful Team Endorphin, is the Race Director for this East Coast Triathlon Festival. Ever the optimist, with his races AND his cases, Landau hopes to report further successes throughout the spring, summer and fall.