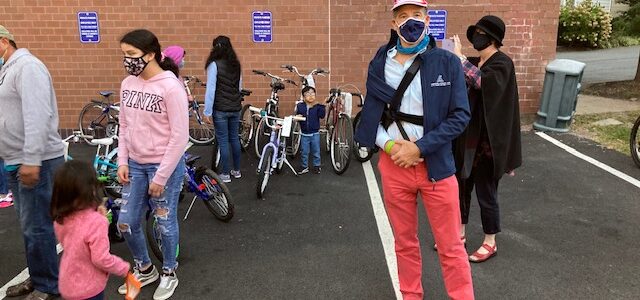 Loudoun County Parkway Bike Crash Derails Lawyer Landau's Effort to Salvage 2020 Multi-Sport Season
While COVID caused the cancellation of nearly everything, including events the Abrams Landau law team was sponsoring in 2020, there were some rays of hope. Lawyer Landau was about to salvage the season in October. Maryland and New York City were opening up for small, controlled events. So, while all the races he helps sponsor, Nationals & Worlds all cancelled, there were still some safe venues that could accommodate tested athletes with staggered starts and strict protocols.
Decommissioned military bases and islands seem to be safe sanctuaries for competition in time trial format, with no drafting, physical distancing, etc. (See 
https://landauinjurylaw.com/theathleteslawyer/2020/09/28/maryland-racing-thanks-to-racine-multisports/
) With the age group wins in a Triathlon AND Duathlon (on the same day!), and the new USAT Rules that you only need two races to be ranked, instead of five before COVID, Landau was poised to be top-ranked Mid-Atlantic Sprint Triathlete AND Duathlete. So he signed up for two October races, and did lots of lonely interval training, in order to finish on top of the 60+ category. Landau thought his physically distant, remote cycling, isolated soft grass long runs, barefoot intervals and long lake swims for recovery would enable him to keep "racing fit." 
However, he crashed badly, injuring his right shoulder, collar bone and ribs. Fortunately, Landau did not sustain another traumatic brain injury and he was, of course, wearing a well-fitting bike helmet. He sustained a mid-clavicle fracture, cracked ribs, and road rash to the right side of his body. While starting an upgrade mile interval on the Loudoun County Parkway after a thorough warm-up on the evening of September 30th, he pushed with all his might on the pedals while at the same time shifting several gears at once. The chain locked and Landau went down immediately. He was able to get up, put his shoulder back in place, assess the "road rash," check his body and then his bike. While he was immediately able to perceive the fractured collar bone, he was nevertheless able to get back on the saddle and pedal several hundred yards back to his car. It was a struggle to get the bicycle into the trunk with his right, dominant arm not functioning, but he was able to do so. He called ahead to advise that he was heading to the Reston Hospital Emergency Room.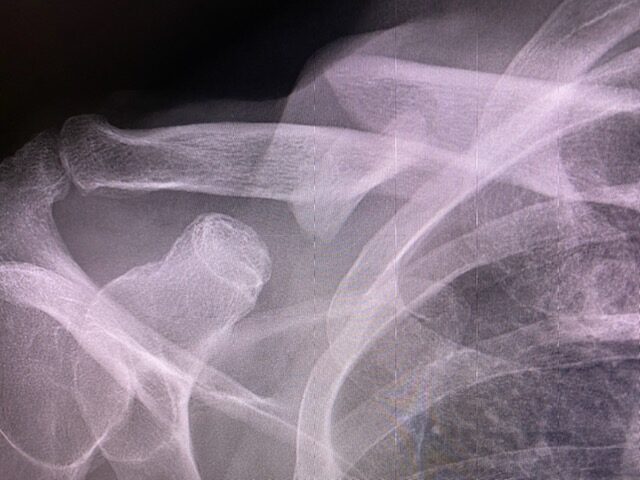 The excellent staff at Reston Hospital triaged him and
Dr. Thomas Fleeter
was able to assess the injuries after x-rays were taken. Fleeter is a highly regarded Orthopedic Surgeon, affiliated with the
Town Center Orthopaedic Group of Reston and Centreville
.  Landau has known this superb surgeon as the result of his repair of his wife after her bike crash fractured her elbow. Dr. Fleeter has generously donated his time to be a physician at the annual Reston Triathlon at South Lakes High School in the Fall, the Reston Sprint Tri in the Spring and at other events. Dr. Fleeter is the team physician for South Lakes High School. He is an avid cyclist and can sometimes be spotted stopping for a treat at the Great Harvest Bakery in the Downtown Historic District of Herndon with his electric bike or one of his road bicycles. Most importantly, he shares the facts with his patients so that together they can determine a course of treatment.
Because the collar bone was not in fragments, and the break was near the middle, Fleeter and Landau elected not to pin and plate it, which would have been an open procedure. Instead, this problematic patient was released with an immobilizing sling. Lawyer Landau returned to work the next day in an acromioclavicular sling, scapula brace and bandaged up along his right side. After two days, he discontinued pain medication, which just stopped him up. He noted, "What really hurts are the ribs when I sneeze, get in or out of bed." Used to an intense daily training regimen, Landau stopped "cold turkey" in order to let his body heal. After a fortnight struggling to sleep propped up or in a recliner, he started with long walks with his 85-year-old mother who now lives with him, and is faster than many of the joggers in Central Park when she is at home in New York City! Thereafter, he began trying the stationary bicycle, stepping in place and very slow jogging with his arms tucked in to his armpits (in addition to the acromioclavicular sling and scapular brace).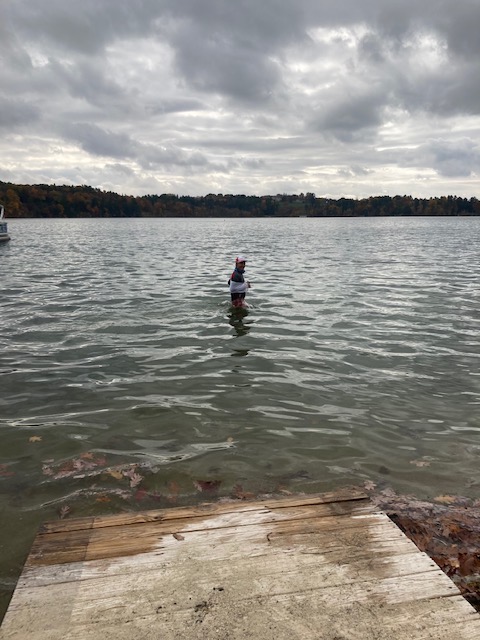 Convalescing in New Jersey and Connecticut, so that he could see his new grandson and spend time with his 1-year-old granddaughter and family members in isolation, Landau has been trying to learn how to do many more things left-handed. The hard-working trial lawyer said, "While I was always pretty good as a lefty in ping-pong, my typing and handwriting are horrible. Thankfully I can get a lot of work done dictating to my laptops and mobile phone, which seem to have about 70-80% accuracy, which is more than I can say for my granddaughter! Plus, I am fortunate to have an outstanding team at Abrams Landau, such that we continue to get great results for our clients, even in the midst of a pandemic. Our team is working hard every day, and everyone is fully engaged in their work on behalf of injured and disabled workers and their families. Even though jury trial dates are postponed, we have been able to try, mediate and settle cases every month."
Ever the optimist, lawyer Landau returns to see Dr. Fleeter in November, for x-rays, evaluation and perhaps a referral for Physical Therapy. He has previously been put through his paces by the Town Center Orthopaedic Physical Therapists several years ago when he had some overuse knee pain from running too long in the snow along the Herndon gas right of ways after a winter storm. Some of the exercises the Reston office therapists helped Landau perform he still incorporates into his training regiment. One of the good things about the Reston Town Center Office, is that Landau saw several different PTs, which enabled him to benefit from different styles and learn different approaches so that he could manage his own "Home Exercise Program" ("HEP"). "Physical Therapy should not stop abruptly just because you are not going to the doctor's office or therapists facility," notes Landau. "Great gains can be had by continuing to use the exercise, stretches and strategies these highly trained professionals teach you. The diagrams, instructions and illustrations all helped me to make a full recovery and get back on track with my training and racing. And the HEP helped keep me injury free ever since."
Landau is a great believer in physical therapy, as he studied at University and Grad School with PTs, OTs and other allied health professionals at Sargent College in Boston. His studies and American College of Sports Medicine  ("ACSM") Continuing Medical Education programs taught him that early mobilization and supervised exercise can help recover range of motion, strength and reduce pain, atrophy and permanent damage. Eager to get started, Landau will likely supplement the Town Center Orthopedics PT with his own aerobic exercise and lower body strength and flexibility training. Racing will be put off until he gets the "green light" from Dr. Fleeter. While swimming may be a long way away, running on safe surfaces and stationary cycling will make up the bulk of Landau's winter training.
Typically, winter is the time when, after a post-season recovery period, multi-sport athletes will do long, low intensity workouts in order to "build a base," upon which later speed work can be done, as the bones, ligaments, muscles and cardiovascular system has recovered from the competition season and had a chance to start anew. Landau expects to compete in the Mid-Atlantic Regional Sprint Duathlon Championships, the National Duathlon and Triathlon Championships and again represent the United States at the World Championships as a member of Team USA at the postponed race in Denmark. In order to compete at that level, he will have to heal completely, train smart, take his vitamins, get plenty of rest and not get into any crashes in 2021!