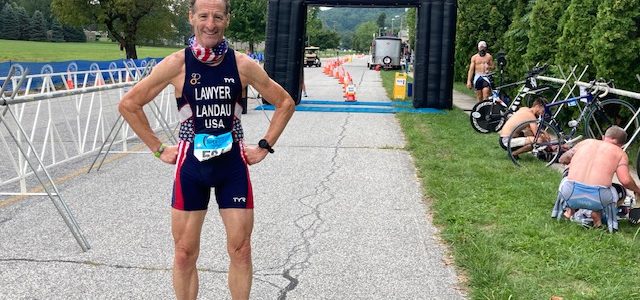 Maryland Racing Thanks to Racine Multisports
With no racing, there are no race reports. Attorney Doug Landau, whose office went remote in March, saw the multisports season likewise go "remote." All the Kinetic Multisports races, National Championships and ITU World Championships that Landau was to compete in were cancelled due to the pandemic.
In order to "participate" and support the multisport community, Doug Landau signed up for a virtual race put on by his friend Ken Racine of Racine Multisports.
Doug had a "family road trip" virtual event where over 10 Landau family members took part. From all over the country, the Landaus did 5Ks, 10Ks and Doug's son Zach even did a half-marathon! Racine Multisports send team captain Doug Landau t-shirts, medals and race numbers for everyone. There were prizes for the most numbers of participants on a team, the farthest distance and other such awards. While the Landau family did not win any such prizes, it was a wonderful thing to do leading up to Doug's 60th birthday celebration on July 4th weekend with his immediate family.
Several months later, lawyer Landau was invited to participate in another Racine event. This time it was to be a "live" multi-part event, with a field limited to 125 women on a Saturday and 125 men on the Sunday at Fort Ritchie. The Fort Ritchie Super Fest Triathlon and Duathlon Men's races were contested August 16th, 2020.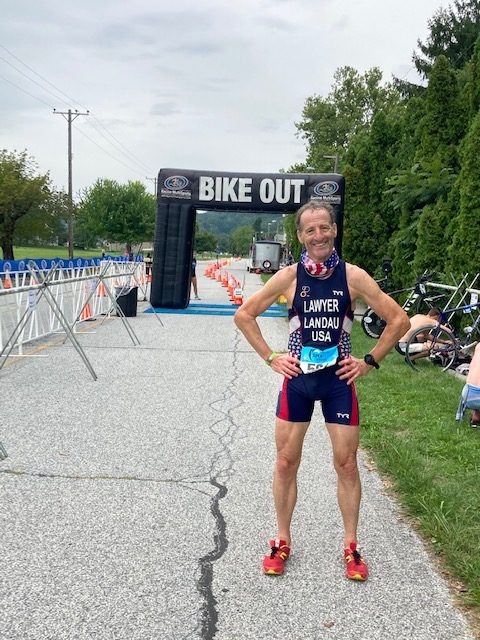 Landau seized the opportunity and registered for both the morning sprint and triathlon, as well as the spring duathlon several hours later. When Landau got to the venue, many of the very best triathletes in the region, including his friend Tom Stroop, were preparing to compete. Stroop is frequently on the podium of the Virginia and Maryland triathlon circuit, has qualified for and competed at the National Championships, where he has been Landau's roommate, and has been a member of TeamUSA at the World Championships.
The safety precautions were significant. The entirety of the races took place inside Fort Ritchie Park, which meant that the racers did not go out in public roads. The swim was in the body of water in the park, followed by a six lap bike course, and then a run in a different part of the park. When athletes arrived, their temperatures were taken, they were asked about any symptoms, and physical distancing was practiced at the packet pick-up and warm-up areas. Furthermore, spectators were discouraged.
When it came for Landau's heat in the morning triathlon, athletes were brought to the staging area with one bike and athlete per rack. They were held there until it was time to go to the transition area, where it was one bike and athlete per rack. No extraneous equipment or wetsuits were allowed, to cut down on potential surface areas. The athletes were then lined up, with their masks on, at six feet intervals, marked by cones to wait for "time trial start" format. Landau was passed by several better swimmers during the first leg of the race, and he even fell down getting out of the water! Once on dry land, he passed several athletes in a blistering transition, and kept passing other during the tight bike ride, averaging 22.5 miles an hour. On the run, Landau had no athletes in sight to aim for and try to catch. He won his age group in the triathlon. There was no award ceremony in order to best keep physical distancing. So, he went back to his car, took a long nap while other races were contested.
When it was time for the duathlon competition, Landau woke up, warmed up and stretched again. The Super Sprint format plays to his strengths, and he was keen to wear his TeamUSA kit. He had a mediocre first run, kept up speed during the bike ride, and was able to pass runners he could see on the final leg, with a faster time than the run in the morning's race! Landau won his age group, as did Stroop, and the overall race was won by Herndon SportFit Lab's teammate Ryan Paxton, age 27, with a blistering 27 mile an hour split. Official results can be found by clicking here.
The Racine Multisports' team did a marvelous job considering the requirements to be allowed to race in the state of Maryland and to keep things safe for the athletes. Landau hopes to be able to do one or two more races before the end of the year, probably in either Maryland or New York, so that there will be something to show for the season of training. While these smaller pandemic procedure races might be smaller and less frequent than what triathletes had been accustomed to, they enable athletes to participate in more intimate settings, in venues that can completely and safely contain racers.
While training has not been as intense in years past, since there's no one to chase after or keep up with, Landau has tried to keep up so that he can represent the USA next year at the World Championships. He remains the Mid-Atlantic Sprint Triathlon Champion and hopes to complete enough events to be nationally ranked again in 2020. He and his wife have not been back to the gym or pool at Sport & Health at Worldgate in Herndon, Virginia since early March. Local swimming pools only re-opened recently, with limited availability. Nevertheless, Landau's hope is to salvage something of a season where he was looking forward to being "the young man in the age group!" Thanks for friends like Ken Racine, he has been able to test his fitness, race and return to the podium. Stay tuned for hopefully more race action.