Fairfax Corner Run Your Heart Out 5K
Fairfax Corner is an excellent venue for weekend morning races, rides and other events. Before shoppers arrive, the central plaza in front of the movie theater and around the corner from the Potomac River Running store makes packet pick-up easy and convenient to plenty of parking. The Potomac River Running shop also has any last minute sports equipment or nutrition products participants may have needed.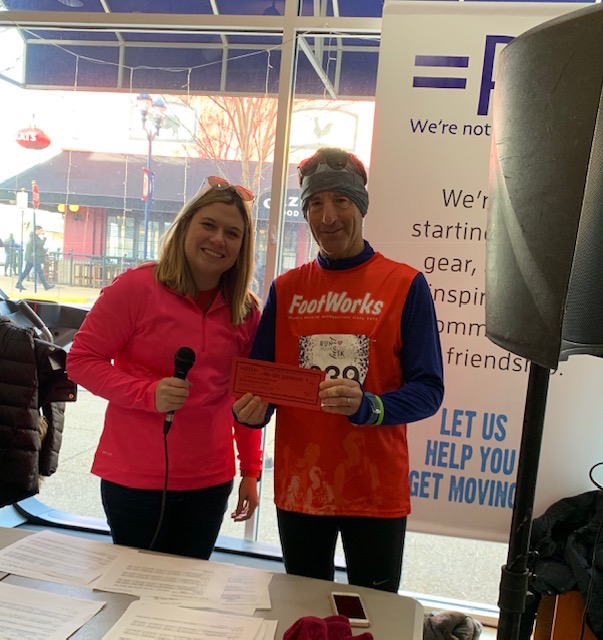 Continuing to ramp up training in anticipation of the 2019 USAT Duathlon National Championships, attorney Doug Landau entered the "Run Your Heart Out 5K to see how he would run in the cold.  While under twenty degrees before the race started, the sun was shining, there was little wind and the roads were dry and safe. Tom Cook and the rest of the race staff had safety cones around the course as well as plenty of enthusiastic volunteers. With several hundred runners at the starting line, the rolling course circumnavigated Fairfax Corner. A small post race expo had free donuts, wooly hats and physical therapy in addition to the usual food and drink.
Landau bundled up and took off near the front. He managed to cop 2nd in his age group behind his friend and Guinness Book Record Holder Ted Poulos. Winchester area stalwart and friend Neil Reimenschneider was also a prize winner in his category. Having the awards ceremony inside the store also helped keep all the finishers warm AND made it easy for prize winners to use their gift certificates. With his award, Landau purchased a pair of "Goodr" sunglasses. His wife rocks the Goodr look when racing, sightseeing or just real estating! Lawyer Landau hopes to participate in more road races, and perhaps a Duathlon or two before heading to Greenville again for the National Championships in April. Stay tuned.