Footworks of Miami Supports South Florida Running
There are some running shoe stores that are iconic and deserve a visit when visiting their town or city. Ragged Mountain Sports in Charlottesville comes to mind, as does Bill Rodgers Running Center in Boston. The store in Miami is Footworks. When Doug Landau went to the University of Miami School of Law, he trained with the track team and raced most weekends in Southern Florida. The local store that supported running in the area was Footworks. Owners Hans and Laurie Huseby always had a smile for Landau and the other UM Law & Medical students who ran all over Dade and Broward Counties.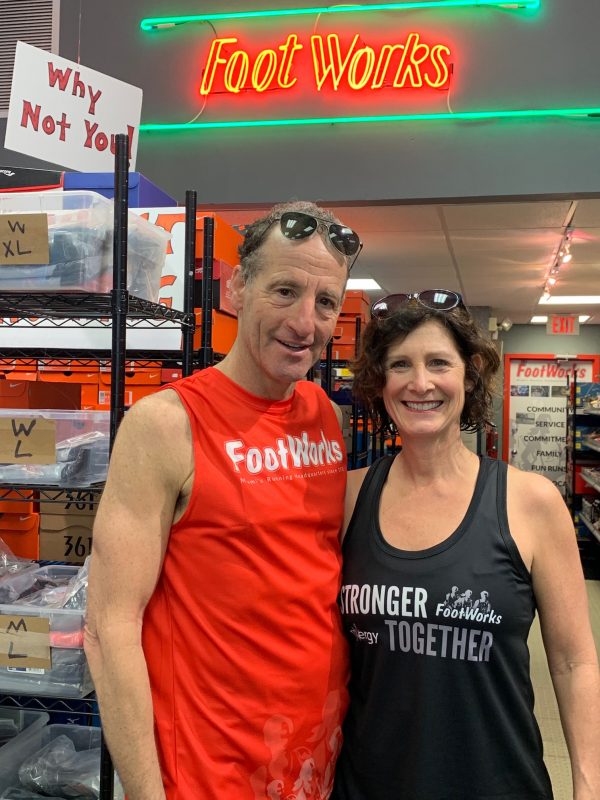 FootWorks has always been a family business, with the three generations of the Huseby family working in the store.  Doug and Melissa Landau jogged over to Footworks after competing in the St. Thomas Parish Episcopal School 5K in Coral Gables, Florida. There was a water dispenser outside the store for early morning runners in the neighborhood. The Landaus visited, reminisced, bought running supplies and then returned to the lawyers meeting. At the local parochial school race, Lawyer Landau managed to finish 14th out of nearly 400 entrants, for 3rd place in his age division. Melissa Landau enjoyed running in the sunny warm winter weather.
The St. Thomas School was a terrific venue for this event. There was great community spirit, with school children bussed in to participate. Runners of all ages had smiles on their faces. There was a small expo behind the school that provided cold drinks, food, samples and giveaways to the participants and their families. The race course was flat and fast, and went on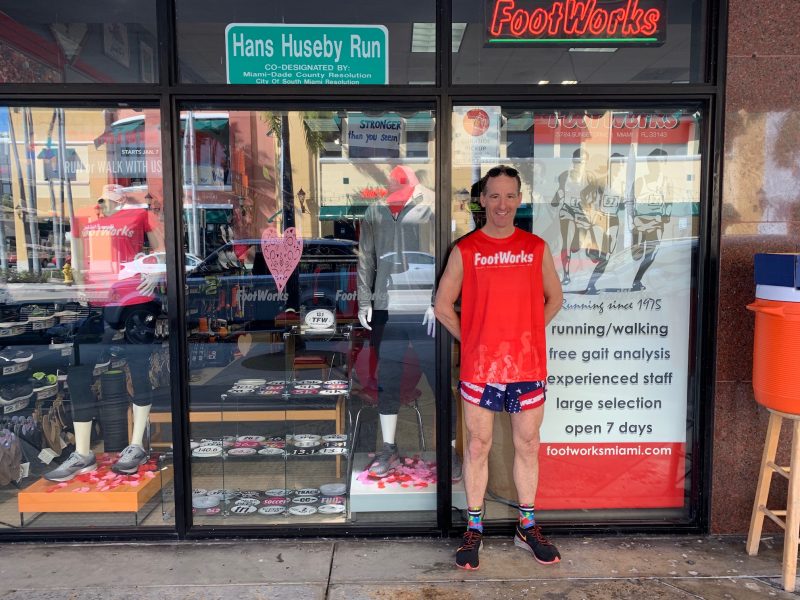 roads the Landaus had run and cycled on when they were students and newlyweds.
Footworks has evolved as the unofficial South Florida runners' headquarters. For more than 20 years owners Hans and Laurie were important catalysts for the growth of the South Florida running scene. Their efforts have ranged from organizing Sunday morning fun runs and helping found the Miami Runners Club to directing and producing road races such as the Mercedes-Benz Corporate Run Series. Doug Landau is grateful for the support that the Huseby's gave the University of Miami runners. If you find yourself in Southern Florida, and are looking for a race, a run or a place to get sports equipment, then Footworks would be the place to visit.