Kids' Chance of Virginia Annual Race Named in Honor of Virginia Workers Compensation Commissioner Roger Williams
The Kids' Chance of Virginia 2nd Annual D.C. Dash 5k took place on a magnificent fall morning along the Potomac River. A sunny crisp Saturday greeted racers as they assembled at the Columbia Island Marina at the Mount Vernon Trail, just north of Reagan National Airport. This Charity race took runners north on the Mount Vernon Trail towards Arlington and then back toward Lady Byrd Johnson Park.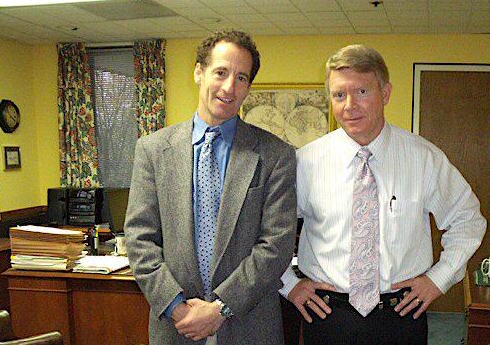 When attorney Doug Landau saw the flyers for this event at the Annual Virginia Workers' Compensation Commission Educational Program at the Richmond Civi Center and that it was named in honor of Roger Williams, he knew he had to participate and contribute. Landau's friend, sometime opponent and appellate judge Williams passed away from brain cancer in October of 2016. Roger Williams was appointed by the Virginia General Assembly as Commissioner with the Virginia Workers' Compensation Commission (VWC) on May 1, 2008.  Prior to his eight years as one of the three judges that comprise "the Full Commission," he had been in private practice for 28 years, exclusively in the area of insurance defense litigation, with emphasis on the law of workers' compensation. He represented employers and insurers in thousands of cases before the VWC. Mr. Williams received his undergraduate education from Washington & Lee University in 1975 and his law degree from University of Richmond in 1980.  Landau remember's Roger's keen friendly demeanor, legal mind, sense of humor and dry wit. Landau had written a post about Roger when he first became a Full Commissioner in 2008.
Kids' Chance of Virginia (KCVA) provides post-secondary and trade school scholarships to the children of Virginia workers who have been severely or fatally injured in a workplace accident. KCVA is a 501c3 non-profit organization founded in 2011. Kids' Chance of Virginia uses 100% of donations to fund scholarships. The mission is to help fulfill the educational dreams of young adults who may not be able to reach their potential without financial assistance. The first Kids' Chance organization was founded in Georgia in 1998. Virginia's chapter was created to build on the success of other state chapters and in conjunction with Kids' Chance of America. More information on both the national and state organizations can be found at www.kidschance.org.
Misunderstanding the time of the race start this "Daylight Savings" weekend, Doug Landau barely had time to get his number on before the start. With no warm up, Landau started slowly, which is not his M.O., but picked up speed heading into the turnaround when he saw he was in the top 3. Running like he had stolen something, Landau was able to hang on for the overall win, which he dedicated to his late friend's memory. More importantly, check out Kids Chance, as it provides benefits not available under the Workers Compensation Act of Virginia to the families and children of disabled and deceased workers.