Winning Weekend in Litchfield County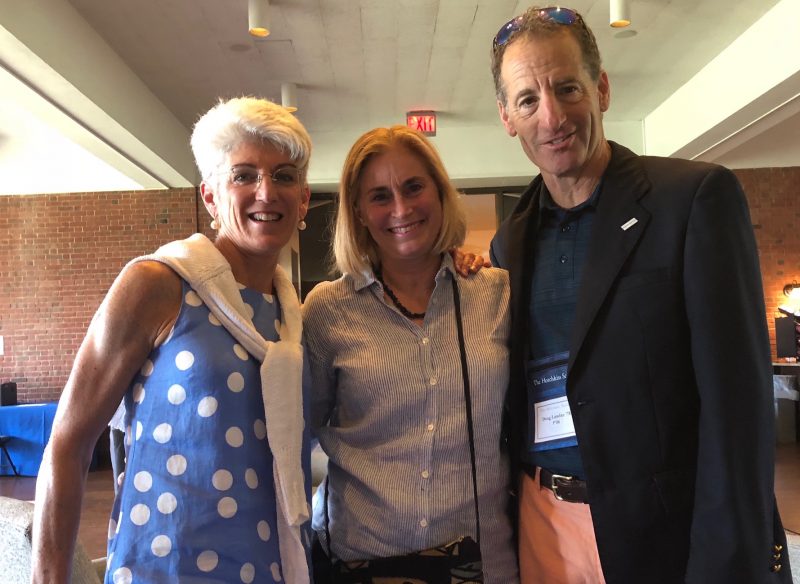 While playing the part of class agent, reunion committee member and local host for out of state classmates, Doug Landau somehow found the time to also jump into the annual Bearcat Reunion Run while attending his 40th high school reunion in Lakeville, Connecticut. Landau graduated from The Hotchkiss School in 1978, and he has been an active alum from this Litchfield County institution ever since. In fact, over the last decade he has been putting out an almost monthly class newsletter to keep class members in touch. While some returning alumni stayed on campus, about a half dozen stayed with the Landaus.
The Hotchkiss School class of 1978 has been a record-setting class from the day of their graduation.  This was the first class of girls who attended for all four years, a truly stellar group of young ladies who are brilliant, brave, athletically talented, but also genuinely good people. They had to be; they broke into a formally all-male bastion that prepared future executives to run their family companies.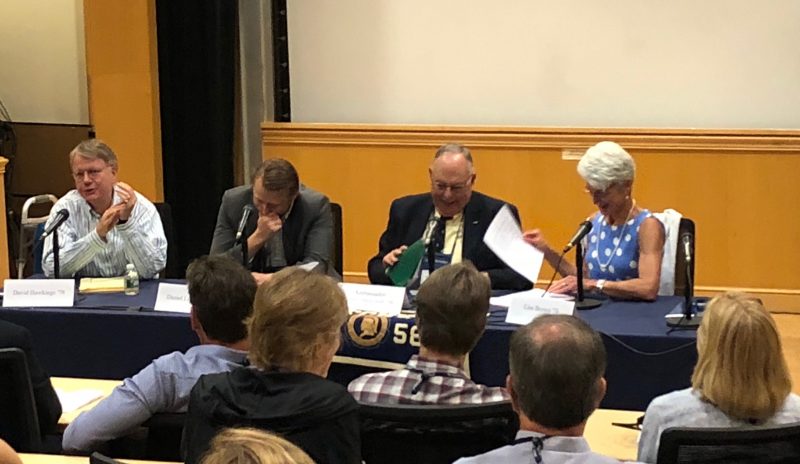 Over the years, the class has broken records for donations, participation and activities. This year was no different. For their 40th reunion, the class of '78 broke the prior record for attendees. The reunion featured a political panel, with Congressional Quarterly editor in chief David Hawkings, former White House Counsel Lisa Brown, both of whom were from the class of 78, as well as Dan Lipman from Politico and former ambassador Robert Beercroft. This quartet of notable alums fielded questions after their prepared remarks to help the audience understand the current political and journalistic climates. In addition to returning to the classroom, exploring the FX lab, touring the campus, seeing the Green building initiatives and renewable energy sources, classmates had time to reconnect, play tennis, golf, swim, kayak, and use the state-of-the-art facilities. 
While lawyer Landau did kayak, swim in the lake and use the gym to continue his training for the national championships, he also managed to get up early on Sunday to take part in the annual cross country course 5K race. Race Director Charlie Bell, of the Hotchkiss School math department, features an unusual format. Entrants pick a teammate, select a race distance (1, 2 or 3.1 miles) and then they must predict their times. Instructor Bell has in place a complex formula to figure out who has come the closest to their predicted combined time. From that group, prizes are awarded. Charlie Bill has a number of mathematics contests throughout the year, and in fact Doug Landau's son Zachary, won a contest involving the speed and distance of a runner, that he entered before he was even accepted at the school! Even though he had not yet matriculated, Mr. Bell did award Zach his prize nevertheless, as he was the only one to submit a correct answer!!!
As for the running race, each year there are runners who run in college, and beyond. Some returning alumni even sport their cross country spikes, having competed for the Bearcats in interscholastic competition. Knowing that the race was 90% on grass, and having won during a rainstorm several years ago (after kicking off his shoes on the last of three laps!), Landau tossed his shoes before the race again this year. This raised eyebrows among the other runners. Landau did not see their facial expressions after the first several hundred yards, as the Litchfield County litigtor lead from nearly start to finish. Even though he was the first to cross the line, his prediction was off by 31 seconds, which wasn't close to the team that predicted their time to within seven seconds! However, Landau was happy to have upheld the honor of his class. The school benefits from reunion's largesse, which helps it to fund scholarships, teacher salaries and improve facilities. Landau's class is looking forward to its 45th reunion, and more immediately, to have a mini reunion's in the cities and places where more than a few alums from this prestigious school have settled. Always competitive, Landau is pleased to have won the running race, broken the participation record, and seen so many of his terrific classmates.