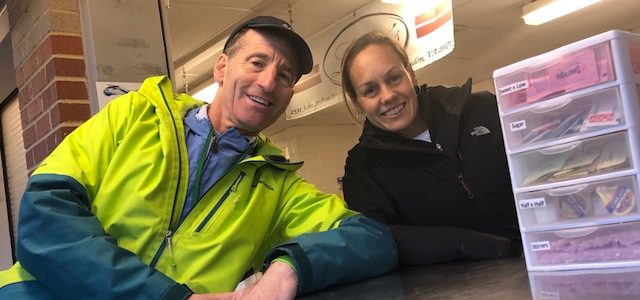 A "Loco Morning" for Lawyer Landau at One Loudoun
OK, call this triathlete lawyer crazy (or "Loco"). After doing a "Run-Bike-Run" 'brick' workout in conjunction with last week's 5K in Reston, attorney Doug Landau did an even longer "brick" this weekend in conjunction with the "Loco 8K Challenge" race at One Loudoun in Ashburn, Virginia. Why another "brick in the wall?" Lawyer Landau answers simply, "brick workouts are one of the best ways to jumpstart serious training for the multisport racing season."
Inspired by South Lakes High School snack bar staff (see photo below), Doug Landau did this 5th annual event, which was sponsored by the INOVA Heart & Vascular Institute, in an effort to get back to "racing shape." Before the local farmers market had even set up its tents, racers were lining up for the 5-mile course. Running through the new streets from Exchange Place and Loudoun County Parkway, Doug Landau was hoping to achieve either his "A goals" or at least his "B level" goals. The A-level goals were: a top 10 finish, winning his 50 to 59 age group, and averaging under seven minute miles. His B level criteria consisted of a top 20 finish, under 7:20 per mile, and copping an age group prize.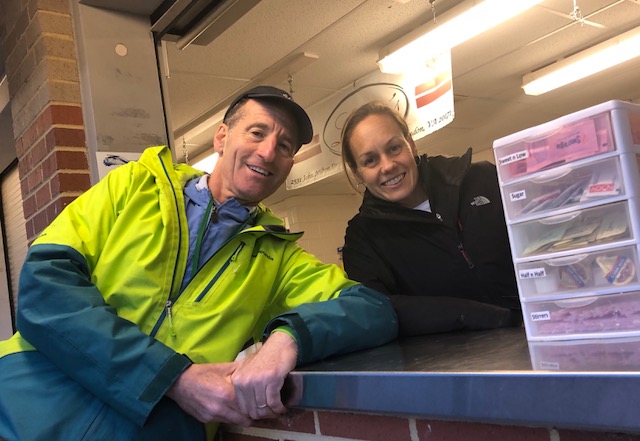 Landau went out quick, with the leaders, but he still does not have the foot speed necessary to maintain sub-seven minute per mile pace. Keeping within "zone four," (aerobic threshold pace), the fleet-footed Herndon injury attorney ended up finishing 16th overall, out of some 340 finishers. He was the 14th male to cross the line, first in the 50-59 age group, with an average pace of 7:19 per mile on the cool, windy morning, thus making his "B level" goals.  Click here for official results.
His effort was good enough for two prizes. However, Landau is never one to stand on his laurels. So he ran over to his car, just as he did the week before, got out his bike for transition, and went immediately into part 2 of his hard workout. This was to be twice as long as last week, and Landau rode for over an hour on the new Russell Branch Parkway in Loudoun County. After his ride, he quickly transitioned back into running shoes and did several more kilometers on the cinders, chips and wooden bridges that comprise the end of the One Loudoun run course. This event was put on by Potomac River Running, with experienced race directors Leslie Greene and Tom Cook supervising. There were plenty of volunteers (20 in matching uniforms at one water stop!), course marshals, and good vibes all around.
There was even a Team Challenge component to the races. Runners could form a team for the 8K and/or the Half Marathon to represent a family, school company or a group of friends and compete against other teams! Landau ran for the Countryside Orthopedics Team, as Dr. Raymond Lower and his partners have successfully repaired many injured Abrams Landau clients over the years.
Because he kept pace within zone 4, Landau was not terribly sore afterwards. However, he did allow for an hour siesta in the afternoon before heading out to his law firm as is his custom, to jump on the mail, drop off race prizes, and get organized for the next week of trials, meetings and travel.
The LoCo races (the 8km and Half Marathon the next day) celebrates Loudoun County running. The events raise funds for local track & field as well as cross-country because many high schools in Loudoun County lack sufficient funding for their track & field and cross country programs. In the past four years the LoCo events have donated over $80,000 to Loudoun County track & field and cross-country programs. Loudoun County School track& field/cross-country programs that have benefitted include:
Broad Run HS Track & Field and Cross Country
Freedom HS Track & Field and Cross Country
Heritage HS Track & Field and Cross Country
John Champe HS Track & Field and Cross County
Loudoun County HS Track & Field and Cross Country
Riverside HS Track & Field and Cross Country
Rock Ridge HS Track & Field and Cross County
Stone Bridge HS Track & Field and Cross Country
Tuscarora HS Track & Field and Cross Country