Lucky Landau Cops Prize at Lucky Leprechaun Race!
In his first race back after a six-month hiatus, attorney Doug Landau took part in the Potomac River Running Lucky Leprechaun 5K at the Reston Town Center on St. Patrick's Day.
He was slightly apprehensive because he had not raced since struggling with injuries last fall. In 2017, lawyer Landau was seen hobbling across several finish lines and not being able to finish other races for the first time in his multi-sport career. Therefore, Landau had no premonition as to what his ultimate time or finishing place would be. The freezing cold weather that greeted the runners did not help either.
Nevertheless, Landau saw many friends who he had not seen in a long time, and they encouraged him mightily. Wearing mostly green, like most of the other runners, the Herndon injury lawyer toed the line and hoped for the best. His friend, and recent Stanford graduate, Andrew Gyenis took off with the lead pack. Landau immediately found himself a minute back at the first mile. By the second mile, he lost several more spots, but his friends Tom and Linda Foley came up and helped him get through the latter part of the race. Finishing in just under seven minutes per mile with the Foleys, Landau managed to finish 45th out of some 922 finishers, which was good enough for second place in his age group! Full results can be found here.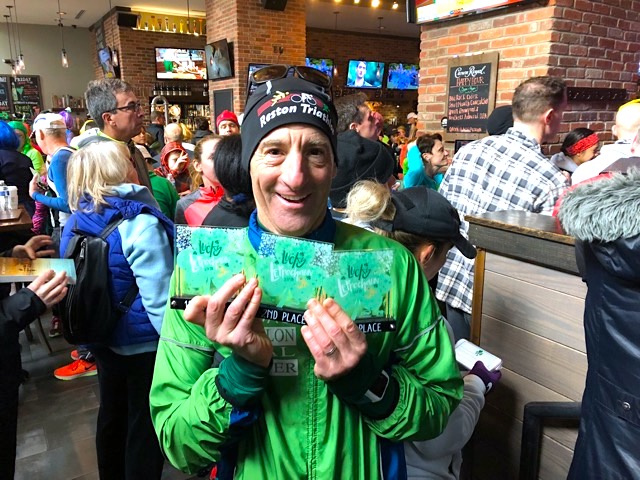 As usual, Potomac River Running did an outstanding job of race management and logistics. The packet pick-up and awards ceremony was indoors where it was warm at the Irish pub at the bottom of Reston Town Center.
Before Landau could collect his award, he had more training to do. Since he is currently training for the Duathlon National Championships in April, Landau immediately hopped on his mountain bike in order to replicate the multi-sport competition's distances. Afterwards, he jogged as a cool down in order to mimic the "run-bike-run" sprint distance format. Landau does not have any duathlon races scheduled before the championship race, as the season in the Mid-Atlantic region has not yet started. So, he will do two more races where he incorporates riding his bike after running the actual race in order to accomplish what is known as a "brick" workout in the multi-sport world.
Stay tuned, as April's race will certainly be akin to uncharted territory. While Landau had the "luck of the Irish" this past weekend, it remains to be seen if that luck will continue down to Greenville, South Carolina for the USA Triathlon draft legal age group National Championship race.