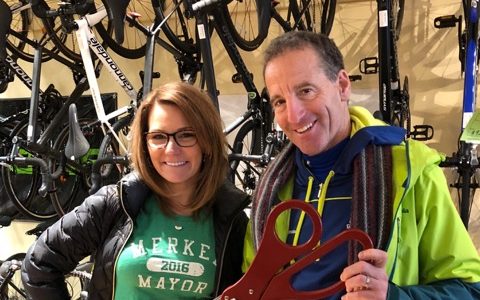 Herndon Mayor Merkel and Lawyer Landau "Cutting Up" at the Green Lizard & Coffee Bar 5th Anniversary
Things were "hopping" at the Green Lizard St. Patricks Weekend. Green Lizard Cycling is a locally owned, family business that opened in the old Nachman's dry goods store building across from the W&OD trail and the Herndon Depot in March 2013.
Their vision for the store and bicycling was simple: treat everyone with respect, treat people as we would like to be treated, be part of the local community, and add value to everything we do. After five years, Dave and Beth Meyer and the staff have created an environment that makes everyone feel welcome. The store is not just a bike shop, but also a coffee and shack shop, bar and place to hang out in Herndon, Virginia.
As part of the anniversary celebrations, the store had sale prices all across the store and in the tent, Happy Hour pricing with a special Irish beer for St. Patrick's Day. In addition, there were technical reps and presentations with Pinarello, Wilier, Shimano, Campagnolo, Zipp, Quarq and Cannondale. They were there to answer any questions and show you the latest and greatest. Vendor trucks could be seen all weekend in the historic downtown of Herndon.
Some of the riders Landau trains with through the winter came in to test ride some cool wheels and bikes, including Pinarello, Wilier and Zipp. There were raffles and surprise door prizes, too! Doug really enjoyed seeing everyone and learning about the latest advances in wheel technology and electronic shifting. More photos and news coverage can be found here.