Marine Corps Marathon Finisher Wears Landau Injury Law Shirt
When a structured settlement expert approached Doug Landau in order to wear the
Abrams Landau, Ltd.
brand at the 2017 
Marine Corps Marathon
 in Washington, D.C., the Herndon lawyer immediately said, "Of course!"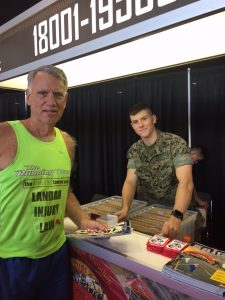 Arcadia Settlement Group
 structured settlement consultant Gary Blankenship had been training to run "the people's marathon." Lawyer Landau has known and worked with Blankenship for many years. Gary has helped clients of the Herndon law firm
Abrams Landau, Ltd.
who have suffered permanent injuries or the death of a loved one. Blankenship has also been a supporter of the Virginia Trial Lawyers continuing legal education ("CLE") efforts. Ever modest, Blankenship had written to Landau prior to the race, "I'm only one in tens of thousands Sunday running in the MCM, but thought I would do what I could to promote your team!" Doug was thrilled at the honor.
Doug knew Gary was in good shape from having played tennis on the Franklin Farms courts with the annuity expert. Gary finished the race and subsequently helped the ABRAMS LANDAU team with the settlement of a catastrophic brain injured, hemiplegic construction worker as well as several families who had lost loved ones in worksite accidents.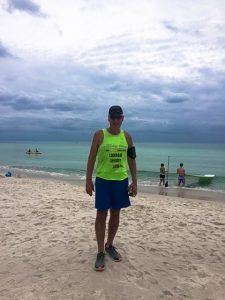 For Doug's brain injured and partially paralyzed young client, the Arcadia team devised a combination of annuities to address the injured worker and his family's long-term needs. In addition to an annuity that would guarantee his monthly comp wage loss income, Gary also put together periodic payments to pay for the regular doctors' visits, anti-seizure medications and periodic diagnostic testing. He also teamed the claimant's family up with
Ametros
 and
Careguard
for post-settlement professional administration and future negotiation of medical bills. The funds placed with Ametros will provide a prescription card for the injured worker's medication needs so his family will not be "out of pocket" when he needs vital anti-seizure and other drug refills. The Careguard component will enable the family to avoid having to pay medical bills at "retail prices." This aspect of the settlement Blankenship and Landau created will enable the money to last longer and reduce the stress and anxiety the family might otherwise experience. The Arcadia consultant's creativity and deep thinking when it comes to lifetime disability and fatal accident cases has helped a number of families of clients of ABRAMS LANDAU. If you, or someone you know, needs help with long-term planning as the result of an on the job injury or permanent disability claim, please
email
or call us (703-796-9555) at
Abrams Landau, Ltd.