Herndon Middle School Bike Shop Brain Injury Prevention Presentation & Helmet Giveaway!
Attorney Doug Landau and Education Director Stephanie Yoon of Abrams Landau, Ltd. were able to make a quick stop at Herndon Middle School's after school Bike Shop to do a mini Lids on Kids presentation!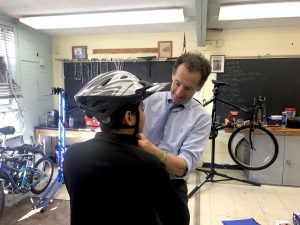 Lawyer Landau brought a replicate skull and brain to talk about the importance of brain injury prevention and always wearing a helmet to a group of Herndon Middle School students at their Bike Shop club. With the help of some of the students, he was also able to properly fit and give away several Bell bike helmets to ensure that the students do not have any excuse for not wearing their helmets when on their bikes or skateboards.
The Abrams Landau team typically does its Lids on Kids program during the spring for local sixth graders right before the summer starts. However, when they saw an opportunity to help prevent traumatic brain injury in any way possible they were eager to help out! All of the helmets we give away have a special sticker on the inside to show that the student received it from Abrams Landau, so that if the helmet breaks for whatever reason we guarantee that we'll replace it.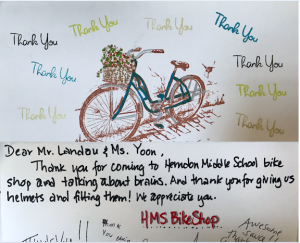 Thanks for letting us come by, HMS Bike Shop!