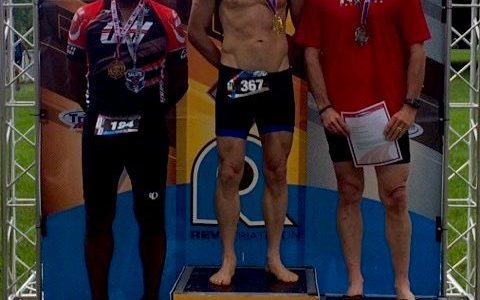 "Salute to the Military" Triathlon
The Memorial Day weekend "Salute to the Military" Sprint Triathlon was greeted by sunny skies and dry roads after a week of rain and cold weather.
Despite the construction, the new course worked well with plenty of route markings and volunteers. With an Abrams Landau cycling-crash client finishing on the overall podium, many friends participating and lawyer Landau's 14th overall finish (easily topping the over 50 crowd), it was a great way to spend the morning in Warrenton, Virginia.
The pool swim was bracing and a bit congested, but once on dry land, things sorted themselves out. Landau managed to pass 50 fast swimmers on the bike (~22 mph) and another dozen runners running just under a 7 min/mile pace before he "ran out of real estate!" People must've thought that the 100M time self-seeding signs were "aspirational!"
The Vint Hill station is a safe venue for racing, especially the little kids' races that follow since the base has little weekend traffic and spectators can watch much of the action. Not a bad training race in the lead up to the Spring Duathlon National Championships in 3 weeks!