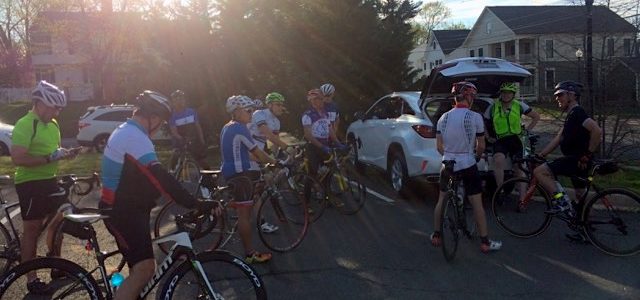 Reston Bike Club Making It Easier to Bike After Work!
The Reston Bike Club (RBC) mid-week rides are now leaving from both the Reston and Herndon locations on Tuesdays AND Thursday evenings. Doug Landau joined the RBC group April 12th in order to get some miles under his legs outdoors before racing on the weekend. The weather was magnificent, and the route map pick-up and sign-in was expedited by the new online sign-up available on the RBC site. In other words, you can sign up for the 1, 2,3,4,5 or level 6 ride, download the route map and preview where you are going before you even get to the Reston Shopping Center or Herndon Parking lot. With SIX levels of rides, ride leaders, and reflective slap bands for additional safety, it makes sense as to why these rides are so popular. Herndon lawyer Landau was able to catch up with friends and get used to riding the roads of Western Fairfax County and Loudoun County.
Prior to the start of the ride, the President of the Reston Bike Club, Chip Magrogan, announced that there were 4 bike-on-bike crashes on the W&OD Trail last week. Riders need to be aware of not only vehicular traffic when crossing at intersections, but also exercise care when passing on the trail itself. While Landau uses a bell to signal when passing, an audible warning is essential, as many walkers, bikers, joggers and dog-walkers have ear buds and cannot hear a cyclist coming up from behind. When startled, they may step directly into the path of a biker, causing injury to both the cyclist and the pedestrian. Give loud warnings well in advance of passing, make sure that motorists make eye contact and stop when crossing a road, and do not assume that all the lanes will stop for you just because the first one or two are polite and are waving you through.
Remember that slower moving pedestrians have the right of way. Just because you are on a bike and can go 25 mph does not mean that you get to blow walkers off the trail. Just don't do it. Be safe and let us know if you'll be at a RBC ride!