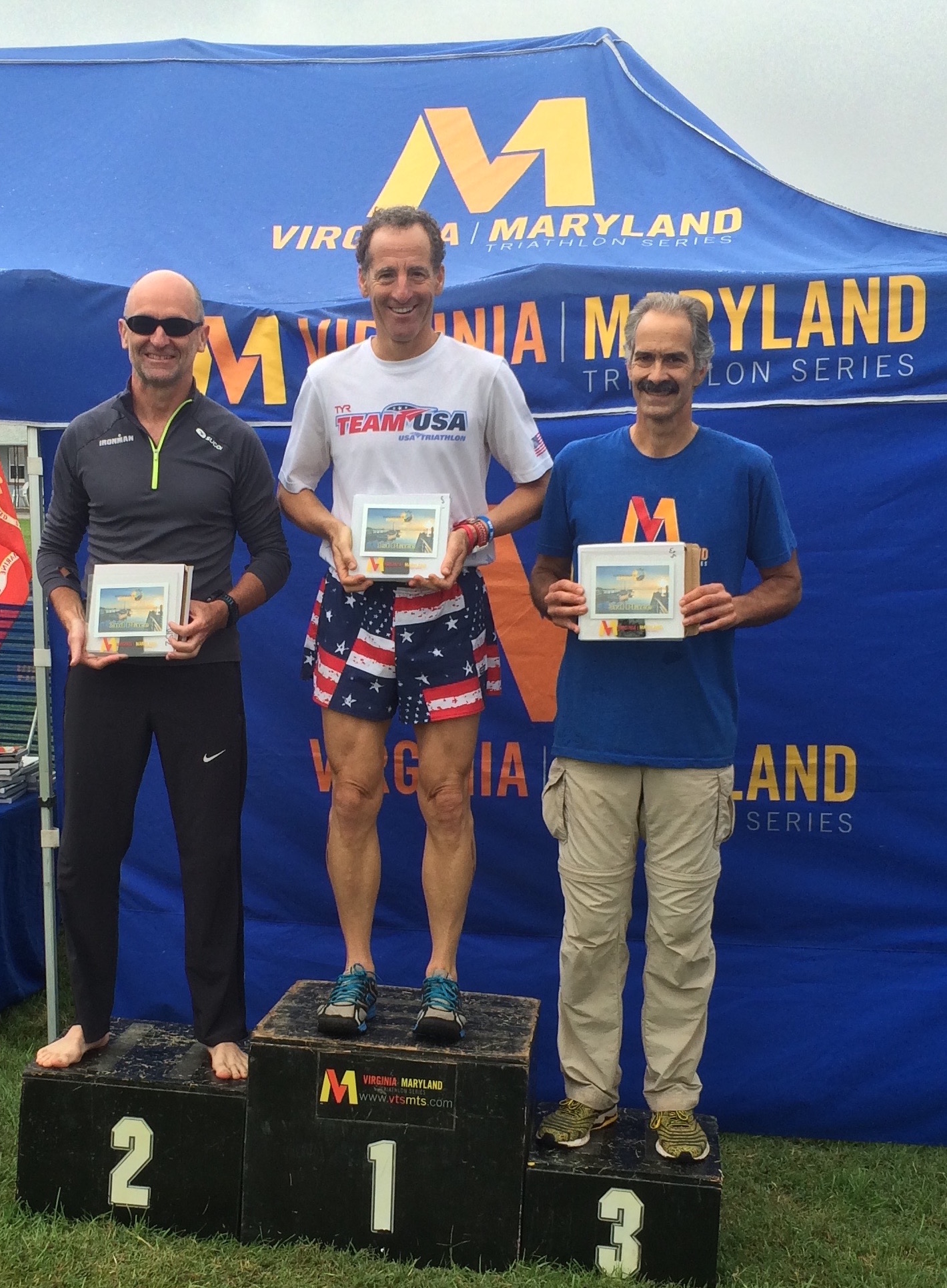 Athletes rock Rock Hall races to finish Maryland Super Series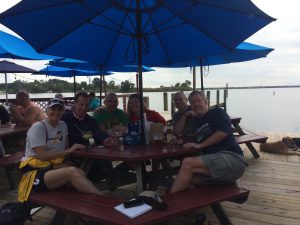 MTS Super Series competition in Sunday's cold, salty water, under overcast skies was much better for athletes than the downpours that lead to Maryland flooding during Saturday's racing.   One of the most fun races in the Maryland and Virgnia Triathlon Super Series is  the Watermans Sprint Triathlon in Rock Hall, Maryland. From the friendly little town on the Bay to the restaurants and bars where you can sit outside and enjoy fresh seafood and cold drinks walking distance from the Finish Line, the Rock Hall events should be on every mulstisport athlete's race schedule.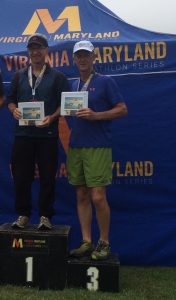 Herndon Virginia area lawyer Doug Landau camped out this year with top Loudoun County triathlete Steve Bradley.  Bradley & Landau trained together through the winter with HPC's CompuTrainer classes, which has helped both Masters Athletes with their strength, consistency and bicycling efficiency. The "indoor cycling season" starts in October. Landau maintains that it is safer to train indoors than to risk mayhem in the dark, cold and wet streets and trails of Fairfax County.
The Watermans Sprint Triathlon takes place on the edge of the Eastern Shore of Maryland in Kent County. Landau & Bradley could see Baltimore from their campsite, as it is only 18 miles from Baltimore "as the fish swims" ! Rock Hall is one of the friendliest, most laid back towns anywhere. For you History buffs, it is also full of history. George Washington took the Annapolis Ferry to Rock Hall nearly ten times before heading to Philly on horseback to during his efforts on behalf of America's Independence!
The U-shaped swim took place in Rock Hall Harbor on the Chesapeake Bay, protecting athletes from any serious wind or chop. There were plenty of safety personnel on the water, the boat traffic appeared to have been halted, and athletes were helped up out of the water by friendly volunteers. The wet suit legal event enabled triatheltes and aqua-velo competitors to get in one more race before it is too cold to swim outside. Lawyer Landau worked hard on the swim to finish in under 15 minutes, but then felt like he was figting with a "tar baby" when trying to get his little-used wetsuit off in the first transition.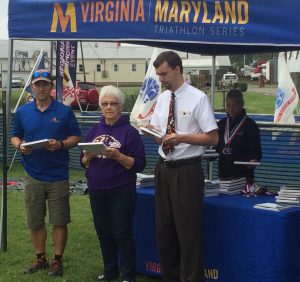 Once on his new bicycle, he could see why the bike course is a triathlete's dream. Wide open roads, washed off by the rain, with wide shoulders throughout most of the course. Multi- Sport athletes were treated to huge expanses of countryside. With only a few "false flats," this course is truly pancake flat! Landau managed to average 23.5 mph on the bike. The one loop run course was also pancake flat and took athletes through the quaint neighborhoods and side-roads of Rock Hall, MD. Landau managed to pass a number of athletes on the bike, and several more in transition. Able to see runners ahead due to the course layout, the Herndon injury lawyer was able to pass a few more athletes on the run, despite stopping to tie his shoes ! His average running speed was under 7 minutes per mile.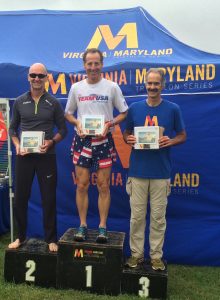 Once again Landau was able to finish in the top 20 and be the best in his Age Group. However, the overall Series Standings have not yet been published. Currently Landau is in 7th place, out of over 200 athletes in his category. However, with only 4 races under his belt, Landau needed a top finish at the Rock Hall sprint in order to qualify for the 5 race Super Series minimum. Furthermore, to crack the top 3, the laughing lawyer needed to garner more points than he has won in any race so far this season. The longer races are accorded more points, so that an athlete winning their division in an Olympic Distance or Half-Iron race gets more "bang for the buck" than a sprint race winner.
Shown with Landau on the podium are his friends and top age group racers Bill Coquelin of Reston, Virginia, and Ben Foy, of Murrysvile, Pennsylvania.
One of the side benefits of the VTS and MRTS races is that they pump money into local economies and help charitable groups with fundraising. This event benefited two worthy charities. The first is the Chesapeake Bay Foundation. The Chesapeake Bay Foundation is a watershed protection agency that fights to keep the water we swim in clean.
The Watermans races also event benefited Special Operations Warrior Foundation. The Special Operations Warrior Foundation provides full scholarship grants and educational and family counseling to the surviving children of special operations personnel who die in operational or training missions and immediate financial assistance to severely wounded special operations personnel and their families.